People of South Walton; Tim and Ronnie Wyatt of Pecan Jacks
By Heather Bennett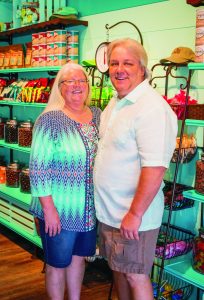 Tim and Ronnie Wyatt, who  were high school sweethearts, also share a love for sweets. When their printing business started to slow during the economic downturn, they turned towards pralines to help supplement their income. Having made the delicious, sugary treats for years for family and friends, they decided other people might enjoy them and want to purchase them. So they started selling their homemade pralines around their home State of Virginia. "We sold out of our Caribbean Rum in 3 hours," recalled Ronnie Wyatt. Needless to say the pralines were a big hit, and thus for the Wyatt's,  began the transition from operating a printing business to Pecan jacks.
Tim and Ronnie spent the next two years selling their pralines at wine and food festivals throughout Virginia. In 2012, they decided to try a brick and mortar location, a holiday store in a Richland mall. They signed a two-month lease and played it by ear. "We did so well and had so much fun, we ended up staying five years," said Ronnie.  Two years ago they opened a second Pecan Jacks location in Richmond in the Omni hotel.
But what makes them so good? "Tim and I have a love of flavor and a love of taste," said Ronnie. Their pralines and brittles are made with various flavor profiles.  The pralines come in flavors such as Traditional, Caribbean Rum, Bourbon, and Sweet Heat, while the brittles embody Pistachio, Cashew, Bayou Pecan and Picante. All the recipes are homemade. "It's fun to create flavors like that," said Ronnie.
The Wyatts vacationed for years in Santa Rosa Beach, dreamed of moving here, and so decided to bring Pecan Jacks to the beach. It made sense to have a location in a place they never wanted to leave. They closed their original location in the mall, and opened a Pecan Jacks location on 30A across from Ed Waline Beach. "It was just natural for us to want to do it here," said Ronnie. "We couldn't be happier in our space." Her nephew continues to run operations in Richmond at the Omni location while she and Tim oversee operations at the Santa Rosa Beach location.
Besides distance, what sets the two locations apart is that Tim and Ronnie have added homemade ice cream to the Santa Rosa Beach location, with over 40 flavors they've created. "We are an authentic operating candy and ice cream store where we make the candy and ice cream right there. We package it and have gorgeous gifts for the holidays," said Ronnie. "We're not just an ice cream store."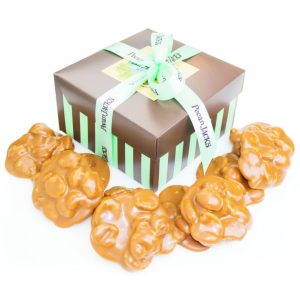 If you are looking for a something to bring to Thanksgiving, Christmas dinner, a holiday party, or a gift to send to family and friends, you can stop by Pecan Jacks and see the gift boxes they have available for purchase. "What's better than locally crafted fresh candy?" Ronnie asked.  The store is stocked with corporate gifting and holiday boxes available. "We can package items for shipping directly from the store. We're all about presentation and delicious sweets", Ronnie says.
Pecan Jacks  will also have holiday ice cream flavors available, Peppermint Bark and a Cherry Coridal with Amaretto for the adults. Ronnie hinted that they are working on possibly making gingerbread waffle cones. We can only hope.
With Santa Rosa Beach being a melting pot of people from different regions, I asked Ronnie, is it pronounced PRAW-leen or PRAY-leen? "There's no right or wrong way. No matter how it's pronounced, it's a delicious piece of candy that everybody should try," Ronnie responded.
You can check out Pecan Jacks at 4368 W County Hwy 30A across from Ed Waline Beach, or visit their Website at www.pecanjacks.com, but I suggest a visit to sample the candy and ice cream.