Local Restaurant Contributes to Oyester Reefs
By Erika Zambello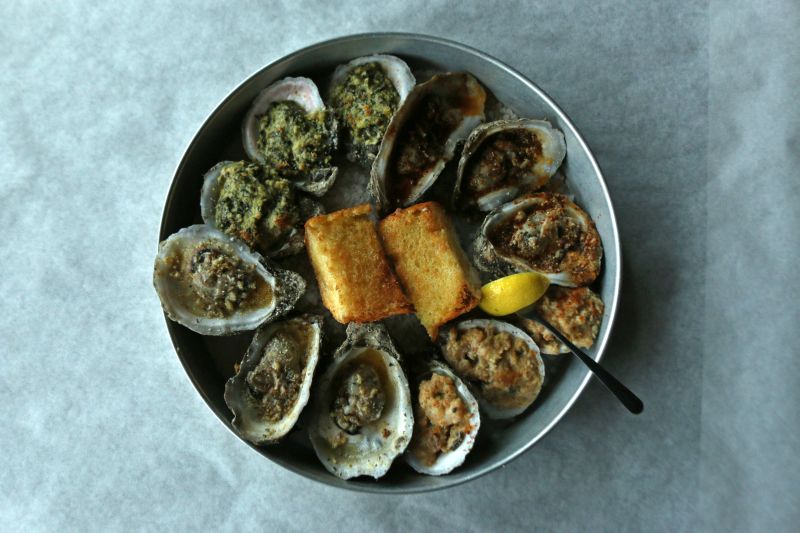 I arrived at Half Shell Oyster House in Destin just after the lunch rush. In addition to their year-round oyster shell motif, the restaurant staff had decorated for the holidays with fir boughs and bright ribbons. Red walls added to the festive atmosphere, as did the light-hearted Christmas melodies playing over hidden speakers. After opening in May of 2017, Half Shell is already giving back to the community utilizing their specialty: oysters.
Twice a week, a Choctawhatchee Basin Alliance (CBA) truck rumbles up to Half Shell's location near the Destin Commons. As chefs work throughout the day, they remove the top shell from the oysters they use and toss them into the waiting blue bins the restaurant keeps for this purpose. When Half Shell opened, joining the dozen restaurants already in the shell recycling program was a "no brainer", explains Stephen Vallette, General Manager. Half Shell restaurants participate in similar initiatives in both their Mobile and Spanish Fort, AL locations.
"I appreciate being able to give back to the environment with what would have been discarded shells that now help mitigate shore line erosion," Vallette said in an email.
While we spoke, a chef whipped up a sampler plate of their most popular recipes: Charbroiled Oysters, Oysters Bienville, Oysters Rockefeller, and their award winning Oyster Orleans. All were delicious, and every single oyster contributed a shell back to a future reef in the Choctawhatchee Bay. Throughout the two-county service area, CBA recycles over 30 tons of oysters every year to use in reef building programs.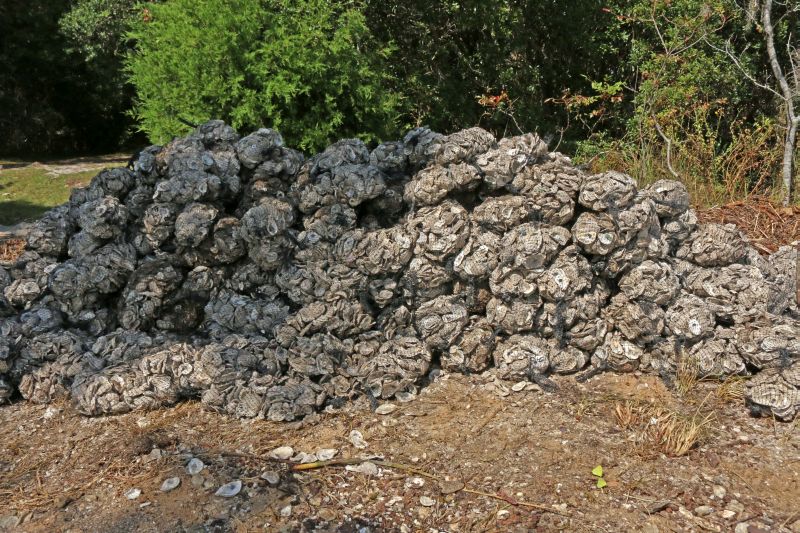 From the kitchens to the bins to the CBA truck, the oyster shells are then transported back to  South Walton to dry in the sun for 3-6 months. When ready, shells are gathered together in bags before they are loaded up on barges and aluminum boats. Volunteers, CBA staff, and AmeriCorps members form long assembly lines, passing each oyster shell bag along until it is carefully placed in a brand new section of reef.
"We could not build our reefs without dedicated volunteers and AmeriCorps team members," says Alison McDowell, Director of CBA. "We are currently working on our longest project yet, a 1,700 linear foot reef constructed with high school students, college athletes, church groups, and community members."
Oyster reefs provide an array of benefits to our beautiful Choctawhatchee Bay. Their hard structure protects the shoreline from erosion, while providing a new home for juvenile oysters, known as "spat." Additionally, the nooks and crannies of the reefs themselves become habitat for a range of fish and other marine creatures, including recreational favorites like Redfish and Sheepshead. Because an oyster can filter up to 50 gallons of water per day, each new reef becomes a boon to water quality.
With the help of local restaurants like Half Shell, the oyster recycling program creates a sustainability loop for our seafood. While oysters from our bay do not currently grace our tables, CBA and our partners hope that by building up their populations to historic levels, we can once again enjoy Choctawhatchee Bay Oyster Orleans!