Candidate for Destin City Council Speaks in Tallahassee
There's an important debate happening in our State's Capital that should be of keen interest to South Walton County residents. The debate is over how to regulate and classify Vacation Rental Properties by Owner (VRBO) and other Home-Sharing arrangements. There are 2 competing Bills. The first, by Rep. David Richardson would prohibit the State from regulating vacation rental properties while the other would take the opposite approach, allowing the State to "preempt" local regulation completely. In either case, the effect on South Walton County will be profound.
Destin Resident Mark Robertson, a candidate for the Destin City Council, spoke recently at a panel discussion of the Florida Senate Community Affairs Committee in behalf of the legislation introduced by Sen. Greg Steube. The Steube version would prohibit "Home-Rule" legislation and instead require licensing by the State Division of Hotels and Restaurants. The Bill would allow Robertson to continue his Home-Sharing business through the online booking agency AirBnB, without what Robertson describes as "harassment" from the City of Destin. Below are the remarks Robertson gave in Tallahassee: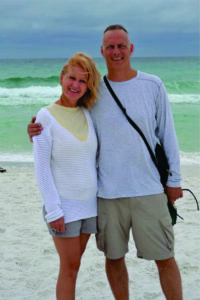 Today I — Mark Robertson of Destin, Florida, a Candidate for Destin City Council — write as a homestead property owner who hosts an Air BnB vacation rental in my home.  My wife and I share our home.  We share it with travelers and tourists alike — and by extension, we share it with Florida taxpayers, as they benefit too, when we earn rental income.  When we share our home, there are rules.  We do not allow smoking, double parking, pets or parties.  
When AirBnB guests visit our home and vacation in our city, they wish to live as local residents.  They wish to see and to experience the local community, not the resort community…. In our case, my wife and I purchased an abandoned house — and used the rental income to renovate it.  In turn, this increased property values for our neighbors by removing the blight of an abandoned property in our neighborhood.  
 Not only did we use AirBnB rental income to renovate, we needed that additional rental income to pay normal living expenses after I became disabled due to a heart condition requiring open heart surgery.  For my wife Lisa and I, the AirBnB rental income was a Godsend. It enabled us to keep our house — after a medical emergency and the onset of disability.  
 Neighborhood improvements by home-sharing micro-entrepreneurs profit everyone, especially the neighbors.  Enterprising vacation rental hosts bless and benefit their neighbors with a comparable, value-added increase in neighborhood property values. VR hosts reinvest rental income to renovate and to repair their homes.  Reinvestment improves their property values and increases the value of other, neighboring properties in residential neighborhoods.  
 Competing legislation, resisting Senator Steube's Bill limits vacation rentals and, in my opinion, is a transparent attempt by the hotel industry to crush perceived competition: middle-class homeowners.  
It's the powerful Goliath establishment fighting the much smaller David who shares his or her home.  David was smaller, but he triumphed.  Likewise, we are smaller.  We lack the political muscle of big, powerful lobbingy groups…   
 In communities with a powerful hotel industry, like Destin — their unfair manipulation of zoning, permitting, and home rule code enforcement are obvious to any interested party not already oppressed by the abuse of home rule in Destin.  In Destin, what private property owners lack is protection.  
We've seen similar efforts throughout the State of Florida, most notably in Miami and in Miami Beach, where bad actors, masquerading as municipal, home rule advocates have rebelled against Florida State laws that protect the private property rights of enterprising, middle-class homeowners.  
To combat this problem of municipal over regulation and home rule overreach, the State of Florida needs to pass legislation, further protecting the owners of short-term rentals… 
Vacation rental hosts know their community best — we know the best restaurants and the best, tourist-friendly businesses.  Our referrals support the local, tourist economy and the "Florida brand" of tourism.  Our referrals are time-honored and tax-rich.  Our referrals generate tourist-tax dollars.  Our referrals fill the coffers of city, county, and state governments — by promoting businesses that pay the bed tax, that pay the tourist tax, and pay Florida sales taxes.  This homeowner, and home sharing in support of the local tourist economy is a good and growing trend.  
The home-sharing and vacation rental movement needs legislative advocates. We must thank Senator Steube and Representative La Rosa for their forward-thinking, business-sense and their legislative endorsement.  
In closing, by supporting their legislation, by supporting Senate Bill 1400 and House Bill 773, you are supporting: 
     the growth of tourism,

     the protection of private property rights, and

     the stability of homeownership
 SUPPORT, therefore, Senate Bill 1400 and House Bill 773.
Mark Robertson for Destin City Council
Editor's Note:
South Walton Life does not take an editorial position on the above referenced position and invites other local residents to share their opinions on this important decision the Legislature will be making in the next few months. In view of the ongoing debate in South Walton to Incorporate as a city, what has happened in Destin, and what continues to happen, should be taken into account.