By Heather Bennett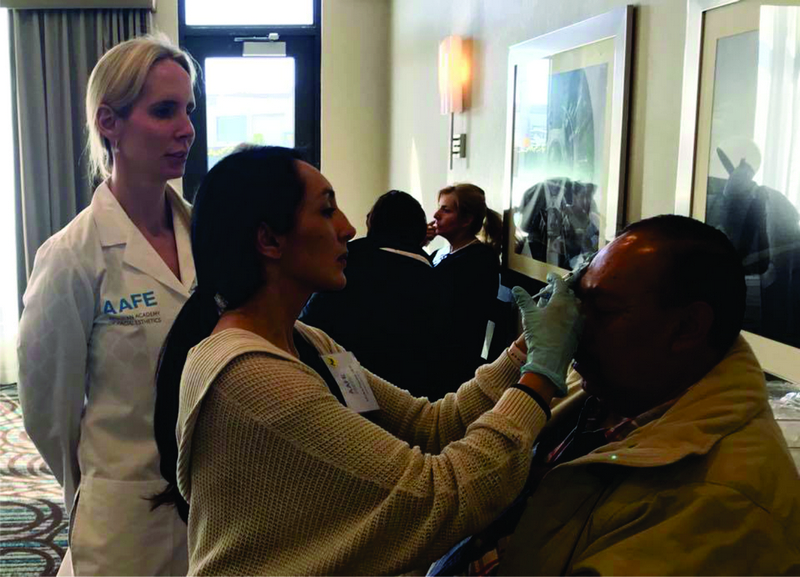 Dr. Amber Wiebe was interested in dentistry from an early age; growing up in Savannah, Georgia, where her father practiced as an oral surgeon. "Many times my Dad would discuss with me the issues with someone's facial anatomy while he was planning a surgery case at home," she said. This definitely peaked her interest in working in the dental field and furthering her study in facial Esthetics.  She is a graduate of the University of Notre Dame and the University of Florida College of Dentistry. Dr. Wiebe is also a Las Vegas Institute for Advanced Cosmetic Studies trained dentist. She met her husband, Dr. Olivier Broutin, 20 years ago while they were both attending dental school. Together, they moved to the Emerald Coast and opened Smileology. Dr. Broutin practices at their Bluewater Bay location.
Smileology is much more than general dentistry. Smileology dentists specialize in transforming smiles and changing lives through facial reconstruction with full face and smile enhancements. Offering Digital Smile Design, Virtual Smile Makeovers and Facial Esthetics, their training and expertise is unique to this area.  With three locations across the Emerald Coast, they are "brightening Okaloosa and Walton Counties one smile at a time."
What sets Smileology apart, is their strong belief in extensive education. "We complete five times more continuing education than the average dentist. All of our associates are held to this standard," says Dr. Wiebe. Their associate Dr. Nakarmi works and excels in the Miramar Beach location across from Golds Gym. Both Dr. Wiebe and Dr. Broutin have achieved their Mastership in the Academy in General Dentistry, which less than 1% of dentists achieve and Dr. Wiebe is working toward her Lifetime Learning and Service Award. DrWiebe also has attained her Mastership in the American Academy of Facial Esthetics. "Our dentists are all highly educated and our patients benefit by receiving care from a much higher caliber Dentist than one just out of school."
Dr. Wiebe is able to help patients achieve more than just a perfect smile. What is the best part of her job? "Hearing patients say I've changed their lives with a beautiful smile and seeing their confidence boost," she said. "The great thing about all of our training is we can fix not just their smile with whitening, veneers or Invisalign, but also treat wrinkles, chin fat, treat aging faces with PDO thread lifts, treat gummy smiles, low smiles, TMJ issues, head and neck pain and facial volume issues. We are passionate about the big picture- helping people be able to chew what they want, cosmetically and facially look the way they want, and overall feel better about themselves."
Dr.'s Wiebe and Broutin have also earned The Presidential Volunteer Service Award for providing their time and expertise as well as services to the underserved in their surrounding areas. They hold a dental volunteer day on Good Friday, called Dentistry From the Heart at their Miramar Beach location. Their next event is March 30th   2018. They also participate in The American Academy of Cosmetic Dentistry's Charitable Foundation Give Back a Smile. Every year, through volunteer efforts, they treat more than 100 patients with fillings, extractions and cleanings. "It is very rewarding for the whole team," Dr. Wiebe said.
If you are interested in a different kind of dentistry contact Dr. Amber Wiebe, her husband Dr. Olivier Broutin, Dr. Nakarmi and their team by visiting their Website at www.Smileology.com or stop in to one of their three locations in Bluewater Bay, Miramar Beach or Santa Rosa Beach.