By Erika Zambello
I sat on one of Pedego's electric bikes for the first time, balancing on the black, fat-tire frame in the parking lot in front of their 30A store location. A staff member carefully explained the controls – the relative power behind the pedaling on the left handle, the gears and throttle on the right. Other than that, I was supposed to just move like I would on any other bicycle. I could do that, right? In my mind's eye, I imagined myself on a dirt bike or something, causing a flutter of nervous butterflies in my gut.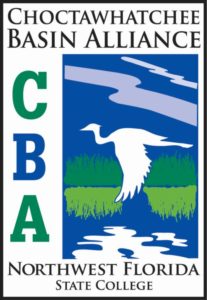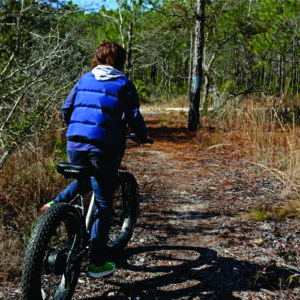 Turns out, I didn't need to worry. Electric bikes are nothing like dirt bikes or motorcycles, and I easily made a few laps around the parking lot, playing with the different settings. If I wanted to do more physical work, I reduced the power to the pedals; if I wanted to relax while I pedaled, I turned it up. Starting became a lot easier with a slight flick of the throttle, and for once I realized I could look forward to hills instead of feeling the burn in my calves. I was ready to take my ride into Grayton Beach State Park!
Jason and Emily Medina run Pedego 30A, and they had just invested in four new fat-tire bikes to go off-roading on trails in Grayton Beach State Park and Point Washington State Forest. Working with the Choctawhatchee Basin Alliance (CBA), they designed a map based on the- tire bike rental back to CBA as a recurring gift. Alison McDowell, Director of CBA, and I had arrived to take one final spin around the mapped route with Jason and his team before the maps went public.
We bordered the road for a bit then turned into Grayton Beach State Park, which covers nearly 2,000 acres along the Gulf of Mexico, and contains three coastal dune lakes and a pine flatwood forest. I stayed towards the back as I got the hang of it, but the benefits quickly became obvious: instead of zeroing in on the physical exertion of pedaling, I enjoyed the exploration of a trail that would normally take half a day to walk.
Zooming around curves of the path, we navigated wide, sandy tracks as well as narrow, needle-covered trails studded with tree roots and sawed-off trunks. The forest managers burn here on a regular schedule, and saw palmettos with greens and yellows grew in tight bunches beneath well-spaced, medium-sized pines. Every so often an educational sign trumpeting wildlife or plants along the pathway beckoned to us, and we stopped at each to read about sand live oaks or gray foxes or deer moss. Delicious freedom coursed through my veins as our self-created breeze blew through my hair as I throttled through a large puddle, left over from a thunderstorm the night before. At one point in the trail, we spooked a male deer, his six-point antlers clearly visible before he disappeared into the underbrush. Just enough topographic variation, just enough sharp trails, and just enough obstacles kept every minute as exciting as the last.
"This unique partnership showcases the positive role businesses can play in realizing CBA's mission of improving swimmable, fishable waters in the Choctawhatchee Bay," says Alison McDowell, CBA Director, "The rental donations will benefit oyster reef construction, hands-on field experiences for Okaloosa and Walton County students, water quality monitoring, and so much more."
We finished the trail loop in just under two hours, enjoying blue skies and plenty of Florida sun. 30A is truly full of outdoor recreation opportunities for locals and visitors alike!