Penn State and SIUE hit nails instead of the beach during Habitat's Collegiate Challenge alternative spring break program Habitat for Humanity of Walton County welcomed over 40 students during the annual Collegiate Challenge, Habitat's annual alternative Spring Break program. Students from Penn State and Southern Illinois University Edwardsville (SIUE) spent a week volunteering with Habitat Walton County from March 5th through the 9th building Habitat Homes 49 and 50 in DeFuniak Springs.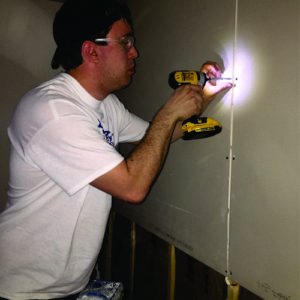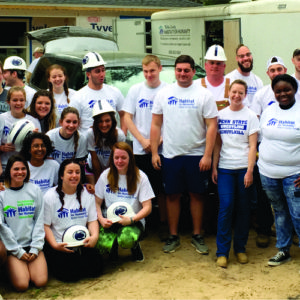 The Collegiate Challenge program helps to teach students a great deal about construction, issues of substandard living conditions, and how affordable housing builds strength, stability, and self-reliance for homeowners. Habitat Walton County has four homes to construct this year; the work of the students is vital to help accomplish the goal.
During the trip, SIUE students installed all exterior vinyl siding and interior sheetrock at Home 49, located at 98 E. Tulip Avenue. At Home 50, located at 137 Michigan Lane, Penn State students "roughed in" the house. Beginning with a concrete slab, the students framed the house with the guidance and instruction by Steve Dixon of Dixon Kazek Morrison Custom Homes. Additionally, they put up walls, trusses, and the roof; installed windows, tar paper on the roof and Tyvek on walls – and passed all inspections throughout the week.
"Our Collegiate Challenge program unites students from other parts of the country with the common goal of helping people who are ready to build a better life for themselves and their families," said Teresa Imdieke, Executive Director, Habitat for Humanity of Walton County, FL. "Every hand helps Habitat homeowners build a foundation they need for a brighter future. We're grateful to these students who chose to spend their spring break volunteering with Habitat."
Collegiate Challenge engages the next generation of leaders in Habitat's work, allowing students to see not just a house being built, but the people behind it – macro issues on a micro scale. These are life lessons the students carry far into their future; all the fun they have is just extra credit.