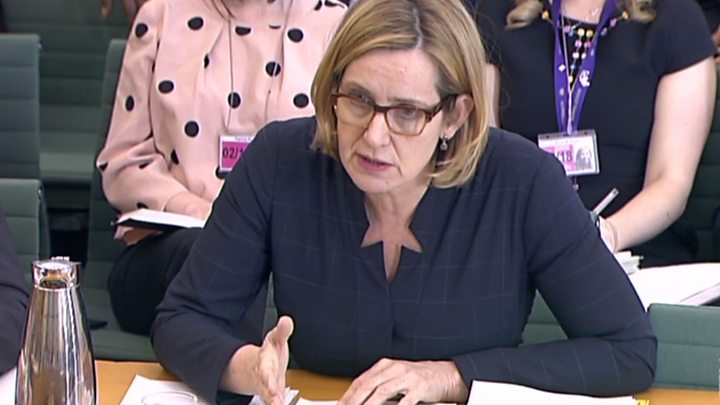 Amber Rudd has resigned as home secretary, saying she "inadvertently misled" MPs over targets for removing illegal immigrants.
The Windrush scandal had heaped pressure on Ms Rudd, who faced renewed criticism after saying she did not know about Home Office removals targets.
Her successor is expected to be announced within hours by Theresa May, who was "very sorry" to see Ms Rudd go.
Shadow home secretary Diane Abbott said Ms Rudd had "done the right thing".
Ms Abbott added that the "architect of this crisis" – the prime minister – must come before the Commons to explain "whether she knew that Amber Rudd was misleading Parliament and the public last week".
Ms Rudd told MPs last week the Home Office did not have targets for removing illegal immigrants, but on Sunday the Guardian published a letter in which Ms Rudd set out her "ambitious but deliverable" aim to deport 10% more illegal immigrants over the "next few years" to Theresa May.
Ms Rudd is the fourth person forced to resign from the cabinet in the last six months – following Sir Michael Fallon, Priti Patel and Damian Green.
Transport Secretary Chris Grayling denied the government was in chaos, telling BBC Radio 4's Today the spate of recent resignations were "unwanted noise" but there were always "up and downs" in politics.
Rudd's resignation letter to PM
Ms Rudd, who had been due to make a Commons statement on Monday afternoon, telephoned the prime minister on Sunday evening to tell her of the decision amid intensifying opposition demands for her to quit.
In her resignation letter, Ms Rudd said she took "full responsibility" for the fact she was not aware of "information provided to (her) office which makes mention of targets".
In response, Mrs May said she believed Ms Rudd had given her evidence to the Commons "in good faith" but that she understood her decision to resign and take "responsibility for inadvertently misleading the home affairs select committee".
She should "take great pride" in what she achieved at the Home Office, Mrs May added.
BBC political editor Laura Kuenssberg's view
An inevitable resignation? Certainly there has been a mismatch between what she told MPs last week and the evidence that emerged.
In a different time, and with a minister with enemies, she'd likely have been out on Friday.
This time the Tory party was fighting hard to keep her. But beyond the mess-ups, perhaps part of the issue was also that she was not necessarily in tune with her predecessor's attitude on immigration – the Home Office's most politically charged brief.
How the immigration 'targets' row unfolded
The controversy began when it emerged that some migrants from Commonwealth countries, who were encouraged to settle in the UK from the late 1940s to 1973, were being wrongly declared illegal immigrants.
Ms Rudd came under fire for the government's treatment of these people – known as the Windrush generation – and their relatives and the wider impact of its "hostile environment" policy designed to deter illegal immigration.
She told MPs last Wednesday there were no removals targets for illegal immigrants – comments subsequently contradicted by a 2015 inspection report. She later admitted "local" targets for voluntary removals had been set but she told the Commons on Thursday she had not been aware of them.
But the Guardian reported a June 2017 memo from an official, copied to Ms Rudd, that referred to targets. The newspaper also published a letter at the weekend, from January 2017, where Ms Rudd told Theresa May about plans to restructure her department and increase removals "over the next few years".
Sources told the BBC that on Saturday and Sunday Ms Rudd and her officials did a thorough search of all documents and found other references to operational targets which she felt she should have been aware of.
The reaction to the loss of May's 'human shield'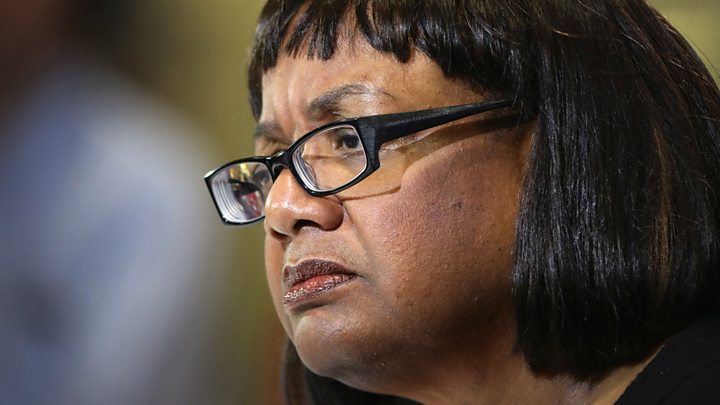 Conservative MPs have been paying tribute to their colleague.
Leader of the House Andrea Leadsom called Ms Rudd "honest and principled" while Communities Secretary Sajid Javid said she was a "huge talent" who would "no doubt be back in Cabinet soon".
Foreign Secretary Boris Johnson said she had done "a great job during last year's terrorist attacks and cares deeply about the people she serves".
Skip Twitter post by @michaelgove
I'm so sad about Amber's departure from government – she was a huge asset – brave, principled, thoughtful, humane, considerate and always thinking of the impact of policy on the vulnerable – I hope Amber will be back soon – we need her

— Michael Gove (@michaelgove) April 29, 2018
End of Twitter post by @michaelgove
Labour MP David Lammy said the home secretary had quit because she "didn't know what was going on" in her department and she had clearly "lost the confidence" of her officials.
He added: "The real issue is the hostile environment policy that caused this crisis in the first place. That policy must now be reviewed."
Lib Dem leader Sir Vince Cable told the BBC Ms Rudd had "clearly jumped before she was pushed" while Green Party co-leader Carole Lucas said the PM had "lost her human shield and now looks very exposed".
And UKIP's former leader Nigel Farage tweeted: "Now that Amber Rudd has resigned we need a Home Secretary that supports Brexit."
Who could succeed Rudd?
Theresa May is expected to name Amber Rudd's successor later on Monday.
Names being touted include Communities Secretary Sajid Javid, the son of a Pakistani bus driver whose father came to the UK in the 1960s and who says his family could easily have been affected by the recent crisis.
Others potentially in the frame include former Northern Ireland Secretary James Brokenshire, an ally of Mrs May's who left the cabinet in January for an operation but has since returned to front-line politics.
Could one of the cabinet's other heavy-hitters get a promotion? Environment Secretary Michael Gove and Health Secretary Jeremy Hunt have been mentioned.
There could also be a swift promotion for Karen Bradley, four months after succeeding Mr Brokenshire as Northern Ireland Secretary.
What's the job for whoever takes over?
Analysis by BBC home affairs correspondent Danny Shaw
With responsibility for immigration, counter-terrorism and policing, the job of home secretary is one of the toughest in government. During one period under Labour, there were six home secretaries in eight years.
But Amber Rudd's job was made doubly difficult because she was following Theresa May, who'd survived in the post for more than six years and had set in train a series of plans and objectives that Ms Rudd was expected to stick to, even if she disagreed with them.
The former energy secretary was unable to put her stamp on any significant policy during her 21 months at the Home Office; much of her time was spent fire-fighting – dealing with the implications of Brexit, the rise in violent crime and last year's terror attacks.
Presentationally, Amber Rudd was impressive. But she lacked a command of the detail, which her predecessor had mastered, and it proved to be her undoing.