CREATIVITY AROUND EVERY CORNER AT ART WEEK SOUTH WALTON
MAY 9-20
Art Week South Walton, an initiative led by the Cultural Arts Alliance (CAA) of Walton County, kicks off Wednesday, May 9, with a soirée to celebrate a special exhibition and live demo from internationally renowned artist Billy the Artist, as well as the recently selected summer rotation artists at The Foster Gallery in Grand Boulevard.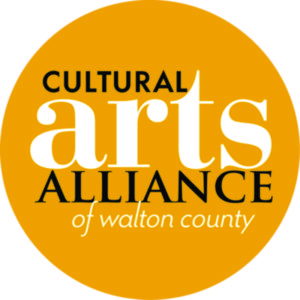 The Art Week calendar is full of creative offerings, including an 'Under the Sea' fundraiser for the Underwater Museum of Art, featuring Shawn Mullins, the Northwest Florida Theatre Festival, ArtsQuest Fine Arts Festival, Longleaf Writers Conference, Explore Creativity with Justin Gaffrey at the Justin Gaffrey Gallery, Equation Exhibition opening at the Justin Gaffrey Gallery, Digital Graffiti at Alys Beach, and an Art Week Bash at Modus Photography Gallery in Grayton Beach. All events take place in South Walton and are part of the Art Week South Walton initiative to bring together communities, organizations and businesses to present quality and diverse arts entertainment.
The Foster Gallery, which is the CAA's professional artist collective showcasing more than a dozen rotating regional artists, special exhibitions and featured guests, will host the Art Week Kick-Off soirée on Wed., May 9, from 6 – 9 p.m. at the gallery located at 560 Grand Boulevard, Suite L101 (across from Grand Park). The gallery will feature the work of the recently chosen local and regional summer rotation artists, in addition to a special exhibit and live mural demonstration by the internationally renowned and New York City-based artist, Billy the Artist. Guests will be able to interact with all the artists while enjoying wine, light bites and music.
Art Week Highlights
MAY 9
ART WEEK SOUTH WALTON KICK-OFF PARTY
Featuring Billy the Artist
The Foster Gallery, 560 Grand Boulevard, Suite L101, Miramar Beach
6 – 9 p.m.
MAY 10
EXPLORE CREATIVITY WITH JUSTIN GAFFREY
Justin Gaffrey Gallery, 21 Blue Gulf Drive, Blue Mountain Beach
10 a.m. – 6 p.m.
'UNDER THE SEA' FUNDRAISER WITH SHAWN MULLINS BAND BENEFITING THE UNDERWATER MUSEUM OF ART
Grand Park, 600 Grand Boulevard, Miramar Beach
7 – 10 p.m.
MAY 11
EQUATION EXHIBITION OPENING
Justin Gaffrey Gallery, 21 Blue Gulf Drive, Blue Mountain Beach
6-9 p.m.
MAY 12 – 13
30th ANNUAL ARTSQUEST FINE ARTS FESTIVAL
Town Center in Grand Boulevard, Miramar Beach
MAY 13 – 20
LONGLEAF WRITERS CONFERENCE
Academic Village and other locations in Seaside, Fla., and Hibiscus in Grayton Beach
May 16 – 20
NORTHWEST FLORIDA THEATRE FESTIVAL
560 Grand Boulevard, Upstairs, Miramar Beach
May 17
ART WEEK BASH WITH MODUS PHOTOGRAPHY, 5 – 8 p.m.
Modus Studio Gallery, 39 Logan Lane, Grayton Beach
MAY 18 – 20
DIGITAL GRAFFITI
Alys Beach
For details on each event, please visit ArtweekSouthWalton.com.