Studio 237 Offer Music Fun and Opportunity for the Summer!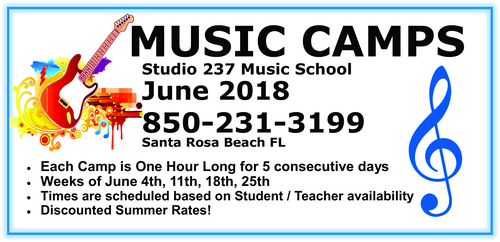 Summer is the season to try new and exciting activities. Studio 237 Music School is providing an opportunity for people of all ages to try musical instruments and venture into different aspects of musical expression.  In June, the Music School is offering music camps each week for five consecutive days, one hour per day, for a $100 savings off regular prices.
Piano teacher Lisa Cyr will be teaching "Music Discovery Class (MDC)" for ages 4 to 6. Children will have fun learning about notes, singing songs, learning the musical alphabet, trying different instruments, listening to classical music, and starting to move to the beat.  Before you know it, you will hear your child humming the Beethoven's Fifth Symphony theme in the backseat of your car. $75 per week for MDC.
Voice and piano teacher Shannon Hastings is leading a Music Theatre Singing (MTS) group. Enjoy learning solo and group songs from the latest music theatre shows such as The Greatest Showman, Beauty and The Beast, Trolls and a lot more. Miss Shannon is an amazing pianist who accompanies as she leads the group. There will be a final performance at the end of the week for parents and friends. Sign up for the week of June 11th by calling Ray at 850-231-3199. $150 per week for MTS.
Scott Gilmore, Studio 237's guitar and ukulele teacher says, "Build it and they will clap!"  Children ages 7 and up will be taught the fundamentals of music composition such as melody, harmony and lyrics. They'll also learn to compose original music with another student, plan, and then perform their song as a team.  $175 per week
Ray Cyr makes drumming a fun learning adventure as he teaches students how to play on a drum set, or get ready for a drumline in the school band. Students get excited as they discover rudiments, tempo, count-ability, accent-ability, playing different beats, and how to ride the rhythm of the music on a drum set or single drum.  $175 per week
Get the feel of a piano lesson as you learn piano basics in 5 days! This will be a fun and interactive class as Lisa Cyr teaches technique, note reading, and coordination. $175 per week
In addition to the camps, Studio 237 offers individual private lessons for 30 minutes, 45 minutes, or 60 minutes on the following instruments: piano, guitar, drum set, voice, violin, ukulele, and clarinet.  Studio 237 teaches children and adults, beginner through advanced students at our normal monthly rates. Please visit Studio237Music.com for rates.
We look forward to seeing you this month. Studio 237 is located in Santa Rosa Beach, Fla.  Call Ray or Lisa Cyr at 850-231-3199 to schedule your time. Visit our website at www.Studio237Music.com.
South Walton Life | 30A News, Events and Community Information South Walton Life | 30A News, Events and Community Information READ MORE