30A Media (www.30a.tv) recently signed an agreement with Sidewalks Entertainment to distribute their large archive of celebrity interviews. For years, "Sidewalks Entertainment" has been presenting celebrity interviews and rising musical artists to TV and online audiences across the country. The TV show has been a popular entertainment choice to get up-close and personal with today's and yesterday's biggest stars.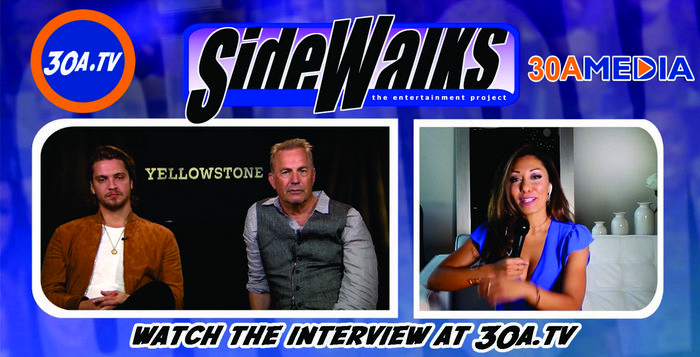 Adding Sidewalks TV videos to the 30A TV network will give viewers an insight and first hand access to current and past interviews. 30A Media has a new channel section at www.30a.tv as well as a stand alone ROKU Channel. Further distribution on existing Amazon Fire TV, Clikia, and Simultv outlets are set as well.
Luke Grimes and Kevin Costner fans can check out their latest interview  at www.30a.tv – a great example of what is to come, along with their other recent high grade segments.
"It's fantastic that we can bring 'Sidewalks Entertainment,' our entertainment project to a new audience on ROKU, thanks to the support of 30A Media," says Richard R. Lee, the executive producer and one of the co-hosts. "As an independently-produced TV show, we have been expanding this program across the country (and around the world).  Featuring hosts from different parts of the United States, 'Sidewalks' has been an alternative choice for one-on-one, full interviews with celebrities that are today's top stars and yesterday's favorites."
"30A Media discovered our show and they thought we would make a perfect channel for ROKU. We never considered ROKU, but we are now excited that a new audience will find our exclusive celebrity interviews and segments. We are a growing show with a small team and big goals. We hope the ROKU viewers will 'add' us and enjoy our entertainment content."
30A Media founder and CEO Paul Vizard said "Viewers should check back often, because we add new content year round. You never know who will be appearing next. We are so pleased to add this content alongside our 30A coverage and original programming."
30a Media remains committed to innovation, providing our viewers with the content they are looking for.
Phone -1-877-30aTV-48 or admin@30a.tv
South Walton Life | 30A News, Events and Community Information South Walton Life | 30A News, Events and Community Information READ MORE