By Dee Cruce
A favorite local vendor mall, Bungalow Home and Life, and owner Jacque Wright, proudly present local artist and business owner, Curt Couch.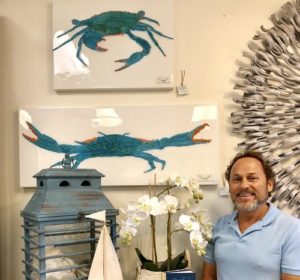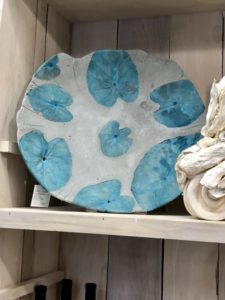 Curt and his wife, Renee, were visiting South Walton for years before they finally semi-retired and bought a home in Santa Rosa Beach. It was there that he and Renee found themselves in a couple's pottery class some ten years ago, and the rest is, as they say "history". Curt took to pottery naturally, even with his first experience at the wheel. From his first experience, he was able to successfully create a recognizable piece. From there, his love of making art only grew.
In addition to his love for ceramic creation, he also is a talented painter and furniture builder. Many of his canvas paintings have a 3-dimensional quality to them. Curt uses many different mediums for creating his pieces, from working with concrete mixtures to mixed media and acrylic paints, the sky is maybe the limit. Each time you look at his 3-D work, it will leave you wondering what products were used to bring his work of art to life. His handmade stoneware works are most notably known and recognized for subtle textures, patterns, and shapes inspired by nature and, of course, our local coastal beauty that we all draw inspiration from. Both manmade and natural objects such as fern clippings, pine needles, and plants of all shapes and sizes are carefully impressed into the clay during the early stages of forming through the first firing, giving each piece a unique pattern while leaving a minimal, if one at all, carbon foot print.
Curt is extremely dedicated and passionate about each piece being either wheel thrown, slab built or hand pinched. Whether utility or functional, or a one off- a kind collector's piece, his work is hand made from start to finish. Each weaved bowl, vessel, and sculpture, regardless of size, is made from high quality stoneware clay and fired using food safe glazing, perfect for showing off your pottery collection during the holidays or any special occasion. His technique ensures the collector that every piece that leaves Curt's studio is unique and original work, either hand stamped or signed with his trademark "Tree of Life" symbol or signed just "Curt"."
Come see Curt's coastal cool art at Bungalow Home and Life, located in the Santa Rosa Beach Post office Plaza, or visit him on the web at www.natural-edge-art.myshopify.com
The post Bungalow Home and Life Welcomes Local Artist Curt Couch of Natural Edge Art appeared first on South Walton Life | 30A News, Events and Community Information.
South Walton Life | 30A News, Events and Community Information South Walton Life | 30A News, Events and Community Information READ MORE