Proceeds benefiting The Sonder Project
The Henderson Resort and Spa is pleased to announce their upcoming Sweet Sunday event onSunday, September 16, from 1 to 4 p.m., with The Honey Hutch anchoring the event showcasing the importance of saving the bees in our environment.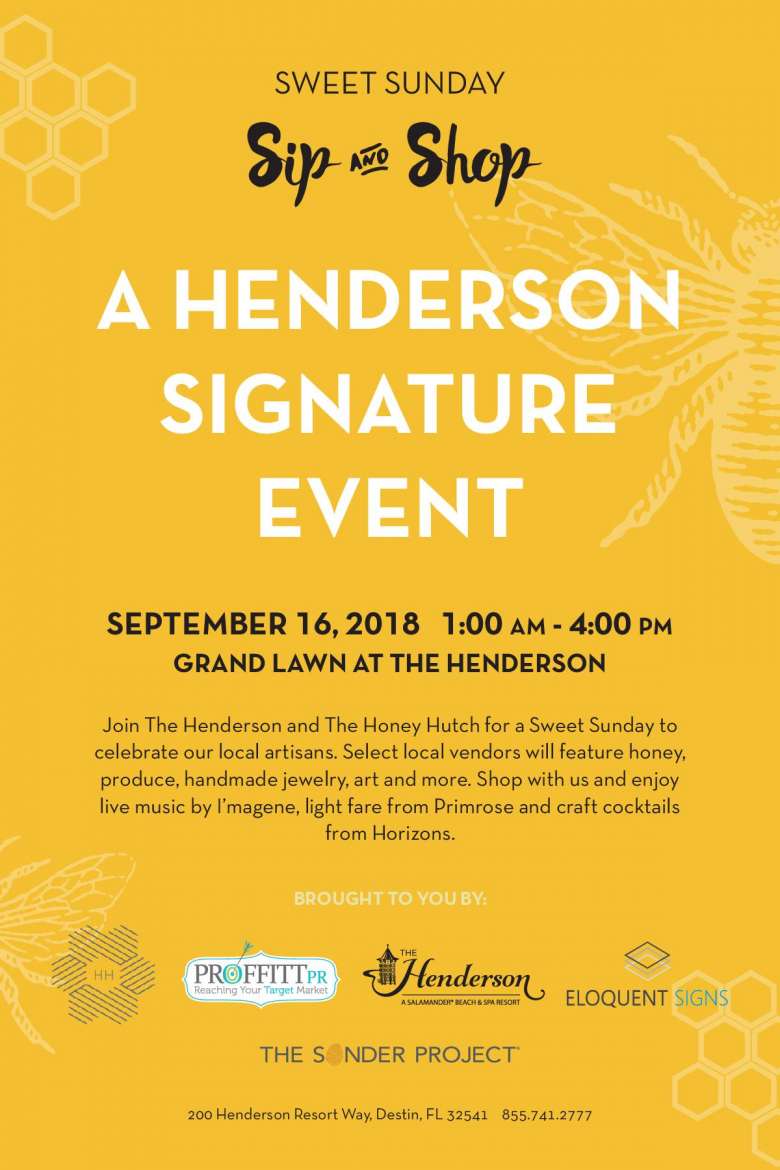 From 1 to 4 p.m., guests are invited to shop merchandise, crafts and produce from various local artisans, as well as sip on honey-themed cocktails provided by Horizons and light hors d'oeuvres infused with local honey provided by Primrose, the two featured restaurants located inside The Henderson Resort and Spa. Vendors such as 30A Barks, A.A. Higgins, Abrakadoodle Art Education, B.A. Bikinis, Clean Juice, Gnarley Fish Prints, K. Witherspoon Jewelry, Lil Plant Shop, Maxine Orange Art & Design, Merry Beth Myrick Designs, and many more will be in attendance for guests to shop and peruse throughout the afternoon event. There will be live music performed by I'magene, a photo backdrop by Proffitt Home Services with photography by Alissa Aryn Commercial, décor by Mingle, signage by Eloquent Signs, and children's crafts available by Abrakadoodle Art Education. 
Sweet Sunday will feature local artisans and vendors from around the Emerald Coast showcasing their specialized craftsmanship. The main anchor of the event, The Honey Hutch, is a mission driven company founded by Destin local, Amy Wright, that offers pure raw honey and body care products made from simple, ethically sourced, wholesome ingredients. Wright will be at the event to also speak about The Sonder Project, a global non-profit charity she partnered with that focused on education, clean drinking water, deworming, and honey bee related agriculture.  
To benefit The Sonder Project, guests will be able to enter into a grand prize raffle featuring a deluxe stay at The Henderson including room accommodations, spa treatments, and meals at their pristine restaurants. Along with The Henderson package, the prize will also include exclusive items from every vendor in attendance. 
The event is family and dog friendly, and complimentary to attend. 
The post The Henderson Resort and Spa Announces Sweet Sunday Event appeared first on South Walton Life | 30A News, Events and Community Information.