By Dee Cruce
If you're thinking about giving yourself that dream kitchen, a luxurious bathroom or just need an update, South Walton Life highly recommends Kitchen Designs Group in Santa Rosa Beach. I just had the pleasure of sitting down with the owners, husband and wife team, Tony and Denise Brown.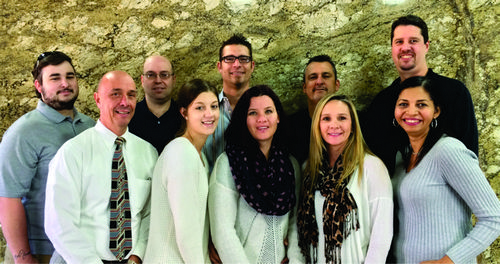 Residents of Santa Rosa Beach for the last 15 months, the pair relocated here from Atlanta with their blended family of six and they don't plan on ever leaving. They're a lot like a modern-day Brady Bunch at the beach. Having been very successful with their Atlanta-based home-design business, they saw a need in Walton County and decided to open up shop. They've been going strong, serving our local area and the panhandle ever since.
"Kitchen Designs Group is dedicated to performing for the customer at the highest level of quality in kitchen and bath construction at unbeatable comparison prices. They ensure the longevity of the company through repeat and referral business achieved by customer satisfaction in all areas including timeliness, attention to detail, service-minded attitudes and superior product. As a company group, Kitchen Designs work hard to maintain the highest levels of professionalism, integrity, honesty and fairness in their relationships with suppliers, subcontractors, professional associates and customers."
Aside from that, it's not every day you find the business owners on site and working in the trenches with the staff, but that's exactly what you'll get in Tony and Denise. Having both grown up in low income families, they've both worked hard to make a successful life for their family, and since they own the business, they do the work! Their number one policy is honesty and they put a lot of emphasis in making sure they pay their success forward every chance they get by giving back to their community. In fact, I'm looking forward to packing blue bags with them this month to support the Foye Belle Foundation, featured on the cover of this month's issue.
In my neck of the woods, a sure sign of a good honest business, are good honest reviews and recommendations from those you trust. That said, if you check out the reviews for Kitchen Designs, you'll quickly see they don't only talk the talk, they walk it. You'll be hard pressed to find a better customer service experience for your home design needs or likely even a better price, as most companies import products and charge a higher price. Tony and Denise also own Bella Cabinet Supply, based out of Marietta, GA, and can avoid most all import upcharges, as a result of their factory's size and production capability. It produces some 20 kitchens daily. Most home design businesses import their options from overseas.
What else is there to consider? Get on down to Kitchen Designs, located at 2890 US Highway 98 West, in Santa Rosa Beach, or check them out on line at  www.kitchendesignsgroup.com.
The post Mett Your Local Pro: Kitchen Designs Group appeared first on South Walton Life | 30A News, Events and Community Information.
South Walton Life | 30A News, Events and Community Information South Walton Life | 30A News, Events and Community Information READ MORE