Local Nonprofit Working to Support Mental Health and Suicide Prevention Efforts along Emerald Coast
Suicide is the tenth leading cause of death in the United States, yet suicide is preventable. The American Foundation for Suicide Prevention (AFSP) leads the fight against suicide. They are dedicated to saving lives and bringing hope to those affected by suicide. There are chapters in all 50 states, with six just in the state of Florida, including the Florida Panhandle Chapter.
"My sister and I started the Emerald Coast Walk five years ago and since then, we've built a thriving local chapter of AFSP working from Pensacola to Tallahassee, raised nearly $300,000 to support local initiatives and training to support suicide prevention efforts, and we are keeping the conversation going around suicide and loss," says Donna Williamson, Chapter Chair.
In the past five years, this volunteer-based organization has held fundraising events across the Panhandle, provided Mental Health First Aid training to the community, worked with local law enforcement to provide mental health education and training, advocated at the state and national level for policies that reduce suicide rates and improve mental health services, along with offering a beacon of hope to those who have experienced the loss of a loved one, or struggled themselves.
"Our events provide a safe space for those who have lost someone to suicide to come together and not feel so alone. We are working to break the stigma surrounding suicide and mental health issues because the more we talk about it, the more we can do to stop it," adds Williamson.
Everyone has a role to play in preventing suicide, and AFSP wants to help locals learn the suicide risks and warning signs, and encourage those who struggle to seek help.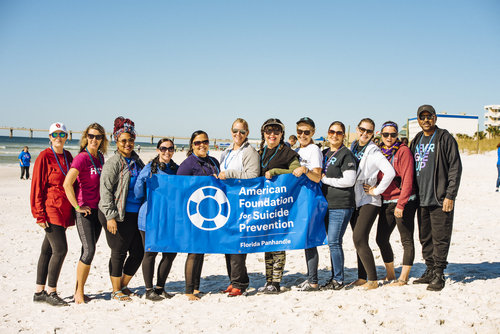 "Suicide has touched so many lives that I can't think of a time someone didn't have a story or experience to share when I talk to them about our work," says Jessica Roberts, Board Member. "I lost a friend five years ago to suicide and AFSP helped me grieve and find a way to help others. I've grown up with a family member who struggles as well. He sought treatment and is still here and I attribute a lot of that to AFSP and our conversations. Talk saves lives. We can all do our part to save a life, save a family from the loss of suicide."
AFSP Florida Panhandle has several events coming up in the spring including Ride to Fight Suicide, a charity motorcycle run, on April 13, a Campus Out of the Darkness Walk in Niceville (date TBA), and another Campus Walk at Florida State University in Tallahassee (date TBA) as well as Paddle for Prevention, a paddle boarding event for all levels (date TBA).
To learn more about the Florida Panhandle Chapter of AFSP, sign up to volunteer, or have your business sponsor an upcoming event, visit AFSP.org/Panhandle or follow them on Facebook and Instagram.
If you or someone you know is in crisis, please call the National Suicide Prevention Lifeline at 1-800-273-TALK (8255); or text TALK to 741741 to text with a trained crisis counselor from the Crisis Text Line for free, 24/7.
The post American Foundation for Suicide Prevention is Bringing Change to our Community appeared first on South Walton Life | 30A News, Events and Community Information.
South Walton Life | 30A News, Events and Community Information South Walton Life | 30A News, Events and Community Information READ MORE