How four Walton County photographers are helping the artists affected by Hurricane Michael
Jennifer Talbert & Anne Hunter
In late October, Whitty and fellow local photographers Jack Gardner, Shelly Swanger, and Chandler Williams were each independently considering  how they could support recovery efforts in the hurricane ravaged towns of the Florida Panhandle. With so many people in the surrounding area affected by Hurricane Michael, the group of photographers decided to come together to answer the question so many had, "how can we help?"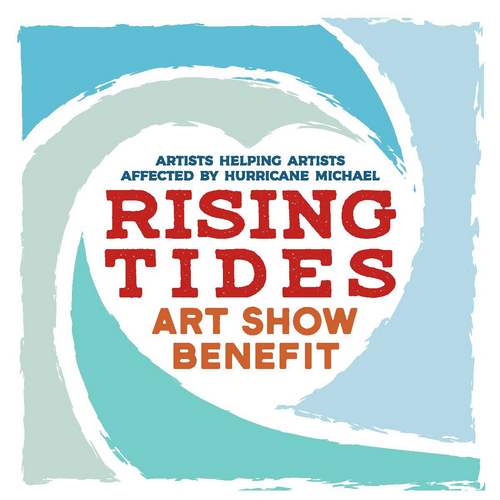 The culmination of their combined compassion and creative collaboration is the Rising Tides Art Show Benefit scheduled for December 7th, from 5PM to 9PM, at Monet Monet located at 100 East County Highway 30A in Grayton Beach, Florida. Hors D'oeuvres and a cash bar will be provided by Grayton Beach Catering. All proceeds from the event will benefit the artists affected by Hurricane Michael with the majority of funds funneling to Floriopolis Community Arts Metropolis, based in Historic St. Andrews.
The art show benefit presents both intact and salvaged hurricane artworks for sale from the Floriopolis roster of 100+ artists from Northwest Florida, spanning from Panama City and Panama City Beach through the Forgotten Coast to Mexico Beach. The gallery and artists will each receive their standard 50% commission for sales with proceeds collected and distributed by the Floriopolis Board of Directors. The Floriopolis line up for the show includes: Heather Parker, Heather Clements, Christon Anderson and other artists to be announced.
The four Rising Tides founders (Gardner, Swanger, Whitty, and Williams) are supported by in-kind donations from The Central Idea Agency, Grayton Beach Catering, Anne Hunter Galleries, Christon Anderson, Amavida Coffee & Tea, Modus Photography, Pedego Electric Bikes, and Monet Monet in unison with the following Walton County artists who are donating works to sell at the event and contributing 100% of their proceeds to the artists affected by Hurricane Michael:
Andrea Alfieri, Jonah Allen, Brandan Babineaux, Beau Bradbury, Jessica Batson, Larry Clemons, Didon Comer, Melissa Davis, Joe Elemore, Billie Gaffrey, Justin Gaffrey, Bill Garrett, Mary Hong, Fletcher Isacks, Rachel Herring, Washboard Jackson, Mark Little, Woodie Long, Susan Lucas, Wendy Mignot, Bailey Miller, Nicole Paloma, Jessica Rae, Kirsten Koza Reed, Anne Reid, Stuart Riordan, Andy Saczynski, Kristine Senft, Marti Schmidt, Aaron Sutton, Liza Snyder, Steve Wagner, Dwight Ward, Eileen West, Allison Wickey, Jimmi Wiz, Jamie Zimchek, 1920 and Co.
Live music for the benefit is coordinated by Mike Whitty and hosted by Rob Pate from Blue Ribbon Healers. The  evening music ensemble features Pickled Pickers, a favorite local band from 30A that performs every Sunday at AJ's, who is kicking off the event,  along with Floriopolis favorites Bonita Underground, The Frailers, Ashley Feller and Calliope Pettis alongside 30A local favorites.
The Rising Tides founders could not have selected a better art establishment to support through the benefit. Founded and managed by Heather Parker, Floriopolis is a non-profit/charitable operation that has over 40+ volunteers and a core of staff of twelve. With more than 90% of the artists showcased in her gallery from Bay County, the impact on Parker and the artists was huge.
Parker created Floriopolis as a community center that not only supports local artists, but also offers an environment for people to spend time together, communicate, share ideas and network. "It's a  place for you to get to know your neighbor through their art," she explains, "having  spaces like Floriopolis helps to keep talent in the area, which, in turn, draws outsiders to visit, instead of building an area strictly focused on tourism."
With the support of the four founding photographers, Anne Hunter, Bailey Miller, Parker and her team were able to salvage more than one-third of the artworks on display inside Floriopolis at the time of the hurricane. "Most of the local arts community is battling with no power, no place to live and no transportation to get around." Parker paints a grim but realistic picture for the artist that she has represented. Parker's friend and fellow St. Andrews business owner, Dan Bailey of Amavida Coffee graciously offered up space to temporarily house the recovered artwork at his main office and coffee roaster.
Providing a space for artists is most important to Parker now. "I want to continue connecting people with one another through the arts. We have to keep artists engaged so they can continue healing with the changes ahead of them. Without a space to do so, it becomes harder to fuel their creative sides."
Billie Gaffrey, artist and Seaside Neighborhood School art teacher was thrilled with the idea of supporting a fellow business owner and artist like Parker. Gaffrey, who shares equally in the passion of supporting that arts said, "I do hope that the artists donating will attend. It is so cool for our artistic forces to come together in unity as one community helping another. It's not often to see a group of us together. We have all donated time, supplies and money throughout this time post hurricane Michael. I would encourage this event to be not just a donation, but a congregation." The founding photographers couldn't agree more. Gaffrey will be painting a live art piece to auction at the end of the night.
Long beloved Walton County gallerist Eileen West has mentored many artists who are donating their works to the benefit. West understands the impact of artists coming together after a hurricane. "This is wonderful," she told Whitty. "After Hurricane Katrina I did a show for all my New Orleans artists who had lost everything including the galleries." West called the show "Waterline" and painted a crungy waterline on the gallery walls about four-feet high to depict the level of water rising. "Still chokes me up to think about what it meant to them," she says.
The Rising Tides benefit is providing a space for the artists of Panama City and The forgotten Coast to show their work and feel the love and support from fellow artists on 30A. With a collision of artistic forces Parker is hoping to see this carry on well after the event. "Lasting interests in collaborations between artists in Northwest Florida would be something to hope for after the event takes place. This is an opportunity for people to know the artist and their story, not just their name."
Recovery efforts in neighboring communities will continue on for years to come. With events such as The Rising Tides Benefit our community will be able to start the healing process for those directly affected by Hurricane Michael. " When you have a passion for your art and what you do with it, you really can never escape it." says Swanger. " Providing a space, audience and opportunity for the artists of Panama City and The Forgotten Coast to show their work and tell their story is going to be incredible."
The post Rising Tides Art Benefit Show appeared first on South Walton Life | 30A News, Events and Community Information.
South Walton Life | 30A News, Events and Community Information South Walton Life | 30A News, Events and Community Information READ MORE