What would you call a guy who had a Pacemaker installed, heart attack, quadruple bypass, Mitro Valve replacement, and then a stroke during surgery – all in one day? Most would say "deceased." Or so you'd think. That was October 20th of 2017 for Santa Rosa Beach resident Steve Cobucci. The ordeal began two weeks earlier with what Steve thought was indigestion. But when the stiffness in his chest and upset stomach persisted, his wife insisted he go to Sacred Heart Hospital on the Emerald Coast to be checked out. Quickly, the doctors at Sacred Heart flighted Steve into the care of Dr. Kerry Paape, an experienced thoracic surgeon affiliated with Sacred Heart Hospital in Pensacola.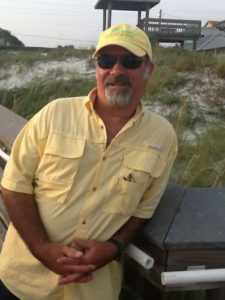 The initial diagnosis was that Steve would need a quadruple bypass once his white blood cells were low enough for him to survive the expected four hour surgery. The 20th arrived and tests showed he was ready. Dr. Paape scheduled the operation. Once on the table, Dr. Paape determined Steve would need a Mitro Valve replacement as well, further complicating and extending the surgery. The final surprise came half way through the operation when Steve suffered a stroke to the right frontal lobe, effectively paralyzing the entire left side of his body. It was a rude awakening when he aoke two days later. "I was completely incapacitated," he recalls. No longer the hardworking, independent "self-made" person he used to be, Steve came back with " angry emotions, a foggy memory and a very uncertain future."
It would be three weeks in intensive care before Steve was ready to begin the long road to rehab and recovery. That began on November 15th when he was transferred to Northwest Florida Rehabilitation in Pensacola. Six weeks later, in December 2017, he was back in Santa Rosa Beach, confined to a wheelchair, still showing little signs of improvement and having lost 40 pounds. "My wife and I were really beat down," he said. "Good food really helped." Finally, in January 2018, Steve began showing slow but steady improvement. "I had no choice: the bills were piling up, and my home was in jeopardy, I remember thinking I have to start fighting – adapt or die. I was mentally drained, but a thought came to me: I have no place to go but up. And so, every morning I would get up at 4am, go to the gym at Grand Bouleard with my walker, pajama bottoms and flip-flops and I would do my exercises." Slow and steady, Steve kept to the regimen, no matter how painstaking the progress. But there was progress. By August 2018, he was beginning to take a few steps without a walker and was regaining mobility on his left side. Steve was dreaming of going back to work again!
For over 31 years Steve has owned and operated Solar Sunsations Inc., specializing in the installation of solar controlled window films, solar shades, and window treatments of all kinds, for homes, offices and commercial buildings. He has always prided himself in his work and the quality of his workmanship. Beginning in the fall of 2018, about a year removed from his heart attack, Steve began contacting previous clients- letting them know he was ready to go back to work. He has since successfully completed a number of jobs, including work for 360 Blue Vacation Rental Company, Trustmark Bank, and most recently, the Building Industry of Okaloosa and Walton Counties headquarters in Fort Walton Beach. "I'm back in Business" he says, noting he's "still recovering but 100% capable to handle any sized job, big and small."
It's been a long, inspirational road for "SoWal Strong" Steven John Cobuccci, but by the grace of God, a survivor.
The post "SoWal Strong" Steven Cobucci: A True Survivor appeared first on South Walton Life | 30A News, Events and Community Information.