The HUB is South Walton's premiere destination for food and family!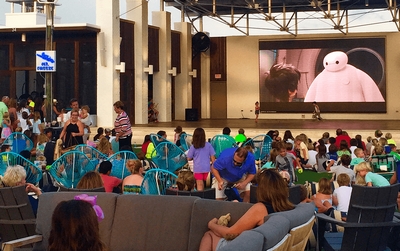 The HUB boasts 6 restaurants and 2 full bars as well as a wide array of retail shops. There are food options to suit every taste, from juicy burgers to slow smoked BBQ, fresh steamed seafood, savory Mexican soul food and wood fired pizzas.
One of the most exciting things about The HUB is its family-oriented lineup of events and entertainment. The 2019 event schedule is well under way with happenings every night of the week throughout the summer.
Mondays & Fridays
Someone once said that dancing is a shortcut to happiness and there's no better place to witness this than during DJ Dance Party nights at The HUB! Every Monday and Friday the lawn and stage are hopping with dance tunes by house DJ Mike Whitty.
Tuesdays, Thursday & Saturdays
Three nights a week you will find only the best local musicians on the main stage at The HUB! Tuesdays, Thursdays and Saturdays from 6-9pm this March will be filled with jazz, blues, country and rock by solo artists and bands like Jim Couch, Ike Bartley, Casey Kearney, Roshambo, Luke Langford Band, Will Thompson Band, Boukou Groove and Geoff McBride.
Sundays & Wednesdays
The HUB's main stage with its 25 foot Jumbotron, is one of the largest on the Gulf Coast of Florida. The HUB will showcase family-friendly flicks on the Jumbotron every Sunday and Wednesday night beginning at 6pm. Bring your blankets, grab some dinner and drinks and cozy up for a family-fun night under the stars!
Special Happenings in March
Be sure to check out the funk and jazz tunes of New Orleans based Boukou Groove on Tuesday March 5th , a.k.a. "Fat Tuesday," with Mardi Gras party favors and drink specials at the Mile Marker Bar & Dion's Bar.
March Madness will also be on full display on The HUB's Jumbotron and TV's from March 19th – April 8th. Schedule to be announced.
New to The HUB This Year:
If you love tacos, and who doesn't, The HUB has you covered! Chef Steve Bucalo's Macho Taco opened in February and is the HUB's newest culinary offering serving Mexican inspired soul food. All your Mexican favorites abound with chef specialties like lobster taquitos. There are also vegetarian options available.
Opening on March 1st is Jack & Diane's New Orleans Style Sno-Balls.
For the uninitiated, this NOLA-Style sno-ball is quite different from a traditional snow cone. While the ice in a snow cone is crunchy and coarse, sno-balls are made from fluffy, finely shaved ice and topped off with a variety of flavored cane syrup. It's the perfect refreshing sweet treat for those hot spring & summer days.
Pineapple at The HUB now has a larger menu offering fresh smoothies, homemade lemonade and fancy pineapple drinks.
The HUB also has a new spot from a trusted local favorite. Mark Fressell of Santa Rosa's Crust Artisan Bakery now has two locations inside the complex. The Crust Pizza Oven and Crust at The Hub will offer New Orlean's cuisine featuring po'boys. Crust at The Hub will also be open for breakfast starting March 1st from 8-11am, featuring fresh-baked pastries, bagels and Amavida coffee.
During your visit, be sure to stroll over to The Shops at The HUB.  Featuring an eclectic variety of clothing, jewelry, sunglasses and art, to bikes, sporting goods, cigars and home furnishings, the shops are open daily. Spring and summer hours are 10am-7pm with select shops open earlier and later.
Whatever your family is looking to experience on 30a, whether it's food, drinks, music or shopping, The HUB has it all! It's the perfect spot to kick back and relax for the day with the whole family while enjoying the food, fun, and music surrounding you.
The post Happenings at The HUB 30A appeared first on South Walton Life | 30A News, Events and Community Information.
South Walton Life | 30A News, Events and Community Information South Walton Life | 30A News, Events and Community Information READ MORE