Santa Rosa Beach, Florida has many qualities to appreciate for an area that is 65 square miles, with 16 Beach Communities, great venues for food and entertainment, and some very talented musicians.
Many of the local musicians like Matt Miller, Marie Gleason,  Jim Couch,  Scott Gilmore, who play at various events during the year also enjoy having a local studio providing a space to teach and train beginner musicians how to develop their skills on their musical instrument.
The first teachers at Studio 237 Music School Ray Cyr on drums and Lisa Cyr on piano have provided rooms for area teachers to instruct students of all ages to learn music theory, song writing, shofar, singing/voice training, acoustic or electric guitar, violin, viola, bass guitar,  mandolin, banjo, ukulele, and cello.
Ricky Stanfield, born in 1990 grew up along the Mississippi River and made it a regular event to take in all the music and lore the area provided.  Ricky has been a resident of the 30A area for 12 years and has on many occasions entertained in the music venues of the South Walton community. He has also played bass guitar in multiple bands including the Graytones, The Shakedown plus the Wildlife Special bands. Ricky also plays on the mandolin in a folk duo known as The Longleaf Drive. For many years Ricky has collected a long list of bluegrass projects he has enjoyed playing with on his 5 string banjo including the award winning Dismal Creek Band.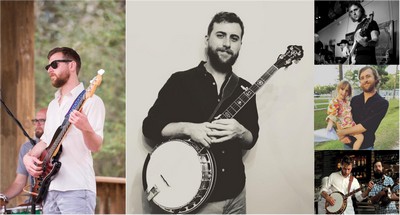 Ricky enjoys spending time with his young family, a modest working schedule, and growing his base of students at Studio 237 Music School. Any student wanting to learn how to play skillfully on the upright or electric bass, the banjo, or the mandolin will not be disappointed if their lessons are taught by Ricky.  He plans ahead for each student to receive quality instruction worth their time and money.  His specialty is bluegrass music, and he loves the Grateful Dead/jam band music, also some New Orleans Funk.  Ricky can teach music theory, traditional country also "pocket playing" music appreciated as a unique approach to playing music. For more information, please Contact Studio 237 Music School 237 Dawson Road in Santa Rosa Beach, FL 850 231-3199 and visitwww.studio237music.com
The post Studio 237 Music School Meet the Teacher; Ricky Stanfield appeared first on South Walton Life | 30A News, Events and Community Information.