FOSWST  launches new Theo Coloring Book this Season
The Friends of South Walton Sea Turtles (FOSWST), Clint Eagar Design Studio and Author Melanie Stewart  are pleased to announce the launch of "The Adventures of Theo of South Walton" coloring book just in time for the the new Turtle Nesting Season.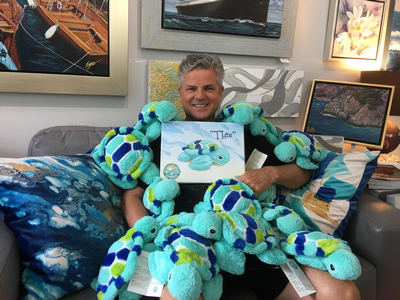 In keeping with the season, A "Theo Party" is just the right occasion to celebrate a new summer season. The party will begin at 4pm till 8pm on Tuesday, May 21st at the Clint Eagar Design Studio in the Uptown Grayton Shopping Plaza, 36 Uptown Grayton Circle, next door to Grayton Seafood. "We are very excited about this new coloring book, authored by Melanie and Illustrated by Clint Eagar and we hope the public is excited as we are," says FOSWST president and founding member Beth Coppedge." We look forward to seeing all our friends and supporters on Tuesday, May 21st. It will a lot of a fun, relaxing event, where we can celebrate a new season and hopefully raise a lot of money." Proceeds go to help with the cost of educational materials and one day, hopefully fund a part-time teacher in the Walton Public Schools. In addition to the coloring book and other Theo themed products offered for sale, Clint Eagar will be auctioning off a Turtle themed print from his gallery. Wine & Cheese, and other light refreshments will be provided as well as music and appetizers by Grayton Seafood.
The post "Friends of South Walton Sea Turtles" Hosts Spring Party / Fundraiser May 21st appeared first on South Walton Life | 30A News, Events and Community Information.
South Walton Life | 30A News, Events and Community Information South Walton Life | 30A News, Events and Community Information READ MORE