By Heather Bennett
If you live in South Walton, or just visiting, it's easy to see that 30A is an artist's paradise lined with art galleries, and art events throughout the year. There's plenty for the adults, but where can kids go to create art? The new creative space Rock Paper Scissors 30A in Grayton Beach has you covered.
It used to be if you were trying to find something to do on a rainy day, or beat the heat of the afternoon sun, you'd have to endure traffic to Sandestin or Destin for laser tag or bowling. But now you can now pop on over to Grayton Beach where you and the kids can enjoy creative learning activities, and have fun exploring your artistic sides.
Rock Paper Scissors 30A, owned by Jessica and Chandler Williams of Modus Photography and Mahalo, opened in Grayton Beach across from Hurricane Oyster Bar a little over a month ago. "That space came available, and we thought about what was needed, and it was kind of a no brainer to just do something creative for kids," said Jessica. "Our kids are extremely creative so it's fun for us to have a place where they can come in and make something different every time."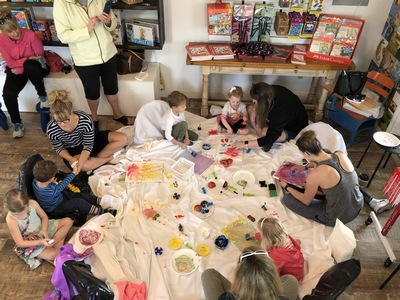 Art classes are offered for different age groups (3-5, and 6+). Some of the projects in the art classes include painting on canvas using different items to "paint" with such as running toy cars through the paint to spread it around, or apples to stamp the canvas. There are also "make and take" projects for those who stop in without a class reservation. These can be fun projects for all ages, which include making fluffy slime, creating mixed media art, coloring with clay and painting rocks. "We're combining playing and art for little ones," said Jessica. "And we're always looking for new fun projects."
Parents are encouraged to stay during the classes. Adults are welcome to get messy, too, but if you aren't the creative type or want to relax while your child creates, Rock Paper Scissors 30A has an area for adults to relax. "We have a back deck where parents are welcome to just sit and hang out while their kids are inside making stuff," Jessica said. "We encourage that. It lets you relax while your kids are being entertained." You can even grab an appetizer or drink from Hurricane Oyster Bar while you wait.
Rock Paper Scissors 30A also has a retail section where you can buy art supplies, and products for gifts and activities. "Everything we carry I try to make it either art or learning," said Jessica. The space is also perfect for hosting birthday parties. The kids get to have fun and you don't have to worry about paint getting on your carpet or furniture. However, parties can be for adults, too. If you're a big kid at heart and want to express your creative side, they host birthday parties for all ages, as well as ladies' nights out.
You can make an online reservation for an art class at www.rockpaperscissors30a.com or stop by 37 Logan Lane, Suite 8, in Grayton Beach to see all the fun activities they offer.
The post Rock Paper Scissors 30A: Where Everyone Gets Crafty appeared first on South Walton Life | 30A News, Events and Community Information.