By Melanie Barrett
With a degree in Journalism from the University of Georgia, Melanie Barrett set out in a career as a television reporter, later becoming a newspaper reporter, followed by some freelance magazine writing. Little did she know that one day she would be working in her dream world…working with animals.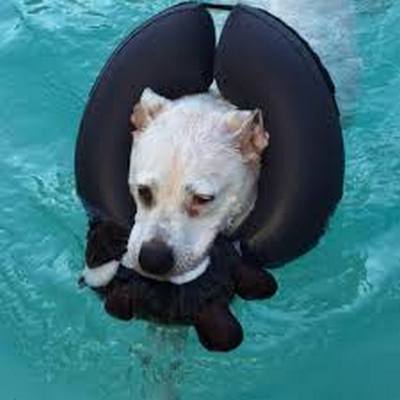 When she was young and in elementary school, she dreamt of being a veterinarian. She would bring home baby birds that had fallen from trees, baby ducks that had wandered away from their mothers, and even lost dogs. But then when she realized that she would have to perform surgery on animals and even euthanize them, she knew she couldn't follow that path.
"In the fall of 2013, during a chaotic moment at the clinic, Melanie Barrett, in for a routine visit with one of her pets, offered to lend a hand," explained South Walton County Florida Veterinarian and former Owner of 30A Vet, Dr. Tonia Shatzel. "Although she only worked with us for a short time, she was inspired to begin a journey that is changing the lives of some of our local patients and their owners."
While spending time with 30A Vet, Melanie recognized a need for alternative treatments and therapies for animals. She began her research and soon enrolled in a Canine Aqua Therapy class in Orlando, Florida.
Her quest for additional knowledge led her to two certifications in Animal Aromatherapy, as well as a certification as an instructor in Pet CPR and First Aid. Next came a year long four-level training in Healing Touch for Animals (a brand name for holistic 'energy work'), and most recently, advanced training courses with Cesar Millan over the past few years."
Once seeing various conditions and illnesses while working with 30A Vet, Melanie decided she would one day have a holistic practice and call it 30A Animal Wellness. In 2014, she opened a Canine Aqua Therapy business, after having an in-ground pool built. The 12' by 28' non-chlorinated swimming pool filled to less than 4 feet, brought rehab, exercise and healing to hundreds of dogs over the past few years.
"Many of our older, arthritic patients benefit immensely from hydrotherapy, as well as energy work," Dr. Shatzel said. "We have also witnessed pets suffering with emotional issues like aggression, a lack of confidence, or introversion issues improve greatly over time. I firmly believe there is a need for alternative therapies and treatment for our pets."
When Melanie discovered the Healing Touch for Animals Program, she knew she  had to add the energy work to her practice. Having studied four of the five levels of the Healing Touch Program for Humans, she knew how energy work can help heal from sickness, illness and emotional issues, then she wanted to help animals. She also had advanced training in dog rehabilitation for behavioral issues.
Now she offers training to others to become qualified in Canine Aqua Therapy.
For more information in hydrotherapy training, or help with behavioral issues,   contact Melanie at 850-218-0476 or melaniebarrett@mac.com
The post 30A Animal Wellness: An Alternative/Holistic Treatment Practice appeared first on South Walton Life | 30A News, Events and Community Information.