"Catalyst is a local cover band playing Classic Rock/Dance/Variety Music everyone knows and loves! We've got something for everybody and love to involve the audience in our music. We love to play music together and that high energy and fun comes onto the stage with us!" – Sylvia Madriaga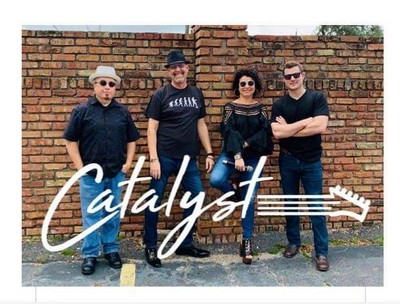 "Catalyst" is like listening to your favorite radio station. They play all your favorite songs, even those you forgot you loved. A show with Catalyst is a party. And it's a party where everyone feels great. There will be no wall flowers while these guys are playing.
At a recent Friday night show at 30A Songwriter Radio, Catalyst brought down the house! I've heard this band play before and knew them to be talented but what they brought to the stage was more than I could have imagined. I smiled the entire night. From within the crowd I repeatedly heard, "I Love This Song! I can't believe they are playing this song!"
Long time patron Stephen Brown came in the next day to say "That might just be my favorite show that I've seen here and I've seen a lot of shows at the coffee shop!"
Catalyst plays at local venues like Seascape Town Center, 30A Songwriter Radio, Funky Blues Shack, 3rd Planet Brewery and Bluewater Bay Marina and much more. They do events like the Walton County Area Chamber of Commerce Annual Gala, private parties, weddings and more. The band can do dinner/smooth jazz music, fun beachy ukulele music and of course dance and rock music that keeps everyone dancing! It's like hiring three bands in one!
Give them a call to help make your next event a fun, memorable one that will be talked about for days.
Band Members: Silvia Madriaga, Lead Vocals/Percussions, Dave Denison, Bass/Vocals, Bill Herrin, Drums/Vocals and Keil Bartholomew, Guitar.
Silvia Madriaga also plays music with her Ukulele solo and with her Duo/Trio WaterzEdge with Bassist Dave Denison and Ukulele/Percussion Marcelo Madriaga and sings a fun and wide variety of music with a tropical flare. It's perfect for beach weddings, private parties and events.
If you have a chance, make sure you catch a Catalyst show. You will have a blast! Upcoming dates are as follows:
May 17th Friday 5-9 p.m. Seascape Town Center, Miramar Beach WaterzEdge
May 18th Saturday 7-10 p.m. 3rd Planet Brewery Mothership, Niceville Catalyst Rock Band
May 31st Friday 5-9 p.m. Seascape Town Center, Miramar Beach WaterzEdge
June 14th Friday 5-9 p.m. Seascape Town Center, Miramar Beach WaterzEdge
June 28th Friday 6-10 p.m. Seascape Town Center, Miramar Beach Catalyst Rock Band
Check out their demo and song list on their website: www.CatalystMusicRocks.com
The post CATALYST appeared first on South Walton Life | 30A News, Events and Community Information.