By Chris Balzar, ECES
As children, some places are scary: the space under the bed, a cracked closet door or shadows in the dark which could drive imaginations wild. As adults, some have different scary places: the bank balance, the retirement investments, children going off to college, a friend or relative's health or not waking up to alarms. Everyone has situations or places which can be troublesome.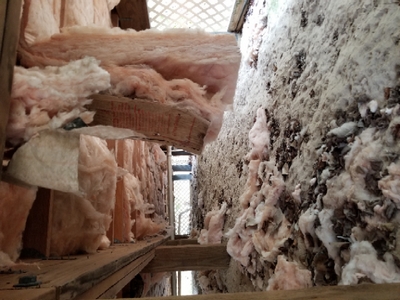 One space which causes some grief is a crawl space under homes. Not everyone has these and they're not really scary. Merriam-Webster defines crawl space as: a shallow unfinished space beneath the first floor or under the roof of a building, especially for access to plumbing or wiring. These spaces are typically insulated with rolled insulation with some type of netting to keep the insulation from falling down. Some have this type of insulation and have witnessed wild native friends: beach mice, squirrels, birds, and even geckos. Yes, geckos, the small chiefly tropical and nocturnal insectivorous lizards, also like this space and will rip the netting to gain access to the insulation and become non-paying roommates under homes.
At ECES, fixing crawl spaces was not always a service provided, because there was not really a great solution other than spray foam or to replace the rolled insulation and netting which would once again become a playground for wild friends and would need replacing in a few years.
But, ECES believes in finding solutions which are highly energy efficient, healthy and will last the life of the home. A local Destin resident introduced us to a system which was a collaboration between LSU (AgCenter), Forest Product Laboratory and Raised Floor Living. This system was a yearlong study which analyzed 12 homes and six different insulation systems after Hurricane Katrina. The types of insulation included Open Spray Foam, at three different thicknesses, one with a vapor barrier; Closed Spray Foam, Kraft-faced fiberglass batt (typical in most homes), and the Max Cap System. Max Cap and Closed Spray Foam showed the best performance from all the types tested. The main differences found between Closed Spray Foaming the crawl space and installing Max Cap, is there is no off gassing and easy maintenance for plumbing or wiring with Max Cap. Plus it leaves the crawl space with a clean, crisp look.
After many conversations with the director of LSU's AgCenter, and countless hours of research, ECES added the Max Cap Crawl Space System to our services. This system gives our customers piece of mind, knowing that their wild friends have been evicted, establishes higher energy efficiency, is maintenance free and will last the life of the home. Call ECES to learn more about Max Cap.
Chris Balzer is Founder and President of Emerald Coast Energy Solutions and resides in the Santa Rosa Beach area with his wife and three children. For more information on how to save this summer and become energy efficient schedule an inspection by calling (850) 588-2870, visit www.trusteces.com or email wecare@trusteces.com and beat the heat.
The post Emerald Coast Energy Solutions – Scary Places appeared first on South Walton Life | 30A News, Events and Community Information.
South Walton Life | 30A News, Events and Community Information South Walton Life | 30A News, Events and Community Information READ MORE