By Rita L. Sherwood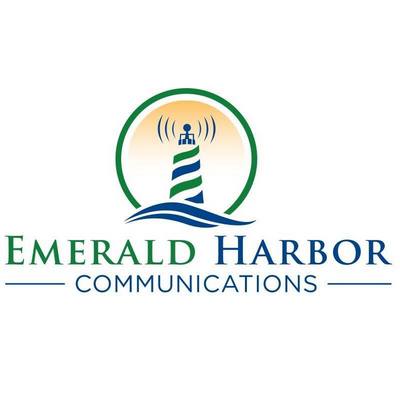 An Air Force brat who attended Max Bruner Junior High has finally come back to his roots, primarily to be closer to his mother, and then ultimately opening up his own business.
Meet our Local Pro, Israel, "Izzy" Bocanegra of Emerald Harbor Communications. A proud Navy Veteran from a military family, with a background in all things electronic since 1985, including avionics and telecommunications, Izzy saw a need for some local competition with Internet, phones and IPTV. When asked why he'd want to even compete with giants like Cox Communications, MediaCom and Century Link, he says "I can't tell you how many people have complained to me about those services." He goes on to explain how our local area is a Tier Four market, which means it's a small rural area, and how the big companies have pretty much abandoned us. Izzy states, "We're committed to our locals, all we have to do is treat people right, deliver a great service with a solid network, and we'll make it."
What makes Izzy's WISP (Wireless Internet Service Provider) business unique are small, fixed wireless antennas combined with fiber optics. With fixed wireless technologies there is no need for cable or wires to run through our neighborhoods, rather it is point-to-point wireless from the tower to the home or business. There are not large antennas like you see with cellphone companies, but are much smaller and still deliver great service. Izzy says, "Our internet combined with You Tube TV allows people of the Emerald Coast to now cut the cord and watch those local channels, keeping up with local news and weather." Considering we're in Hurricane Alley, that's probably not a bad idea!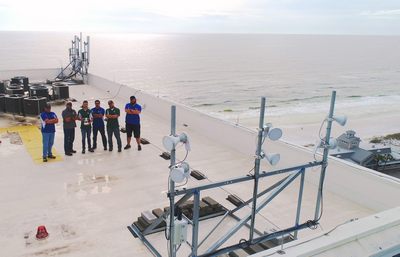 And what motivated him to start his own business? Well, after a three-week retirement, he knew he had to do something besides hang out at Destin's own Harbor Cigars. Or did he? Funny thing is, it all has to do with cigars and maybe bourbon or two. Izzy credits his success in opening his business with making some stellar contacts at Harbor Cigars; so much in fact, he named his business Emerald Harbor Communications. He goes on to talk about how fortunate he was to meet so many great guys who inspired him and pushed him into starting his own business, some of which are investors and even on his board of directors.
So since January of this year, Emerald Harbor Communications has been live. Right now they're located in Miramar Beach, and can service Destin, Miramar Beach and Sandestin. Soon to come is Santa Rosa Beach to 30A, and then Niceville to Crestview. They service all accounts big and small, from residential to commercial, and even rental properties.
And what's a fun fact about Izzy that you'd probably never guess? He's an actor! With credits ranging from 20 different movies to dozens of TV commercials and several TV shows, look him up on IMDb, a popular source for movie, TV and celebrity content. The Alamo is one of the movies you've probably heard of, and Izzy laughs and says, "I've even been killed by Bruce Willis!" Funny story here too, he got into acting after taking his kids to a casting call. Someone approached him, and the rest is history. He says he really enjoyed being artistic and using a different part of his brain, although for the techie, it wasn't really his passion. Good thing the tech won out because now my dear locals, we have another choice for Internet, phones and TV. Now who's willing to cut the cord with me?
You can reach Izzy at Emerald Harbor Communications at Izzy@EHCinternet.com, or at (850) 585-2987.
The post Emerald Harbor Communications appeared first on South Walton Life | 30A News, Events and Community Information.
South Walton Life | 30A News, Events and Community Information South Walton Life | 30A News, Events and Community Information READ MORE