By Heather Bennett
Eddie Mansfield has been the managing director of Path of Grace for seven years now, taking it from a recovery center that helped five women to a program that will very soon be helping 35 women. The success of running a recovery center stems from Eddie's own personal recovery.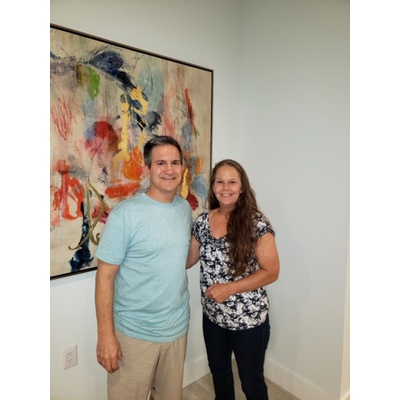 He started drinking and using drugs as a teenager, which carried over into adulthood. "I had many things happen to me over the course of my addiction and alcoholism that caused me to realize I had a problem, but I really never wanted to quit." said Eddie. As people around him were starting careers, getting married and having kids, he realized that his lifestyle was keeping him from maturing at the same rate. "I was growing up, but I wasn't growing up. I was a functioning alcoholic and drug addict (sometimes). I was able to hide it pretty good," said Eddie.
Eddie's parents retired to The Emerald Coast, and it's here they found the recovery that lead him to his freedom from addiction. After trying seven recovery programs, Eddie found his faith in God and God's ability to help his addiction. In 2006, Eddie got clean and sober. "I was totally ready to change my life, and I found God somehow. When I did, it changed everything, and God just kept working on me," said Eddie.
A short time after his recovery Eddie joined Path of Grace as a board member, and also spent time volunteering. He was asked to step into the role of managing director, and he has helped Path of Grace become what it is today. "It's about restoration of families, and as much as we are a sober living home, we're also as much about bringing people to God," said Eddie. Just as God worked in his heart, he believes that faith gives the women the best chance of a full recovery.
In addition to recovery, Path of Grace wants to also help put women on a path to being self-sufficient. One of the many great things they provide is a savings program for the women. "A person that stays in Path of Grace for two years, they leave with over $8,000 in their account," stated Eddie. "The girls are working here, and the thrift stores are doing well in covering operating costs of the program in addition to funding savings accounts for the women. We want to give back to them because that's what it's all about."
Path of Grace is currently expanding to a property on Church Street in Santa Rosa Beach, building what they will call Serenity Village, named after the Serenity Prayer. "We're hoping to build 12 transitional homes where graduates can live. It's just for women and single moms," said Eddie. "It can be a safe place they can live without neighbors who drink and use drugs. It's my dream to get the construction started on the transitional homes this year. There is such a need for them that I want to make it a top priority." They are hoping to raise additional funding to build a chapel on the property and a second Path of Grace home.
In addition to his role at Path of Grace, Eddie opened Favori Boutique six years ago in the Market Shops at Sandestin, a shop that sells women's apparel, jewelry, shoes and gifts. His parents were successful in the women's apparel business when he was growing up. "I felt like it was a good opportunity for me to do something to earn a living," stated Eddie. "I knew the business through my parents and thought it would be a good thing to have to subsidize my income. It's been a blessing."
Please visit PathofGrace.net to learn more about their recovery program and application, how to make donations to the thrift store, or to make a monetary donation that will benefit Serenity Village.
The post Granting Grace Through God appeared first on South Walton Life | 30A News, Events and Community Information.