Ray says, "A drummer's goal should be to provide a steady supportive heartbeat for the music of the band, that causes people to tap their feet, smile, dance and simply have fun.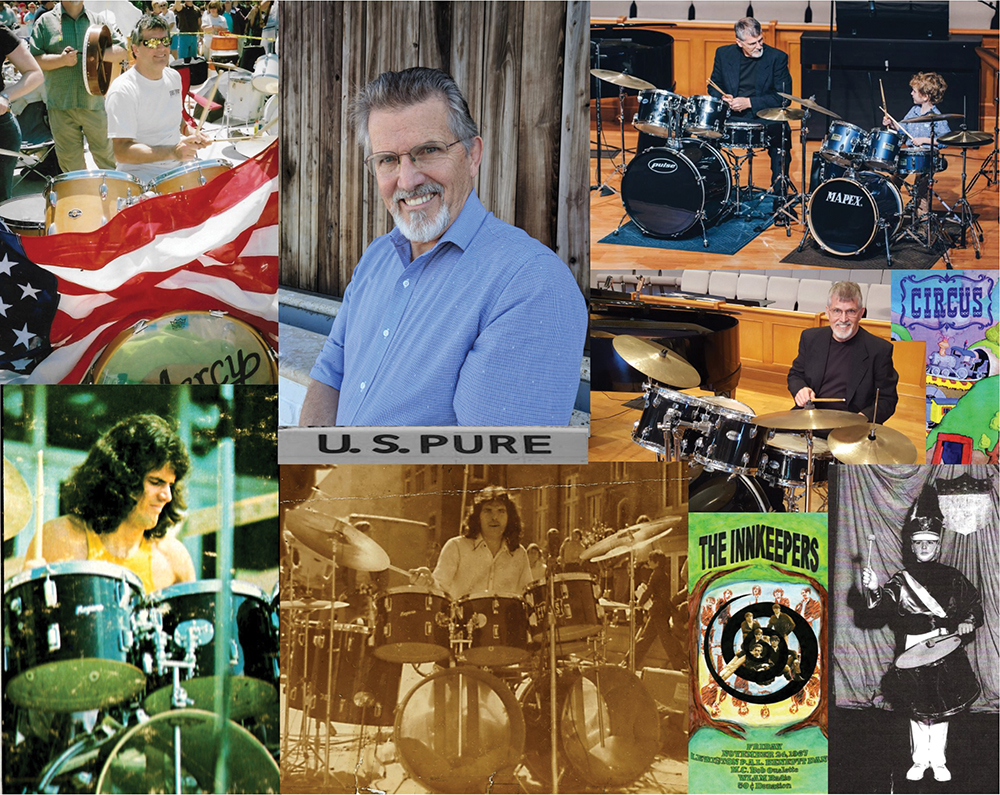 The most successful drummers, I have known, were the type to maintain the tempo heartbeat of the music with the song and create a synergy which unites everyone in the room to join into the groove of the music and dance."  
In the 1960's, a young boy's heart was captured by the sound of a drum line in Lewiston, Maine. While at a parade, Ray walked near the Scarlet Cadets Drum and Bugle Corp marching down the main street of his hometown. The director extended a life changing opportunity for him to join the drum line. The following year, Ray Cyr was on his first drum corps album and, for over 3 seasons of his high school years, was travelling and competing throughout several New England states.
"For over 40 years, my drum students are taught basic rudimentary drumming, keeping a steady beat, proper drum technics, and balanced positioning on the drum kit.  My method of teaching has helped drummers successfully play any style of music with any band that wants a steady, fun, unifying drumbeat."
Drumming for his first rock and roll band, named "The Innkeepers", Ray performed all over the Northeastern states from Maine to New York City.  During the 1960's and 70's, he sought to develop an original style of drumming that made people move and dance. When competing, in The Battle of the Bands for Stardom with 1200 U.S. and Canadian bands, The Innkeepers came in the top 20 and were listed in a report in Billboard Magazine.
"I love the smile I see on the faces of the people dancing together to our music and my drumbeat."
At the age of 21, Ray (and three other men) built North Central Productions of Madison, Wisconsin. After auditioning hundreds of musicians and contracting 25 bands over a seven-year period, Ray's team created one of our nation's largest Talent and Booking Agencies in the U.S. scheduling American and English bands in 40 states.
Ray says, "My passion is teaching my students to create a unique artistic style of drumming and at the same time to be entertaining."  
Ray travelled and performed in over 35 states for nearly 250 days a year at small and large venues, done recording studio work from Maine to California, and has recorded on 8 albums. Thousands of people also have enjoyed his drum solos, one of which can be viewed on youtube @ InnKeepers Gimme Gimme Good Lovin .His styles of drumming include rock, blues, country, jazz, and Christian worship.
"I seek to teach my students to be confident yet sensitive as they perform. Students need to know that other band members will be depending on them to produce a steady beat that is creative and fun.  They need to be "accountable", organized, and strong, especially if they join a band and need to pack up and set up their drums."
The names of the bands and music organizations that Ray has formed or played in are the Innkeepers, Alpha, U.S. Pure, North Central Productions, McMillan and Cleary Talent Agency, Sound Street, CIRCUS, Hemisphere Recording Co., Rim Canyon Band & Productions, Pointe Band, American Music Productions, Brass on Ivory Band, New Life Church Band, All Peoples Tabernacle Band, MERCY Band, Chief Musician Productions, Glenn Hilliard Band and is now the owner and administrator of Studio 237 Music School.
"I love to see the excitement of accomplishment in my students' eyes as they synchronize the movement of their legs and hands in a rhythmic manner to the heartbeat of the music. My mantra is: Relax, be cool, stick to it and be confident and you will be able to drum with any music."
For each week in the month of June, Ray is offering a 5 consecutive, one hour, "one on one", per day drumming lessons for all levels and ages.  Learn to play on a drum set, increase your skills, or get ready for marching band camp on snare, bass drum, quad drums etc. The cost is $175 for the week. Call Studio 237 Music at: 850-231-3199.  Summer camps and regular lessons are available on other instruments. View more about our camps at www.Studio237Music.com  and email at Studio237Music@gmail.com.
The post Studio 237 Meet the Teachers Ray Cyr appeared first on South Walton Life | 30A News, Events and Community Information.
South Walton Life | 30A News, Events and Community Information South Walton Life | 30A News, Events and Community Information READ MORE