What's on 30A TV —  TV is dead – Long Live TV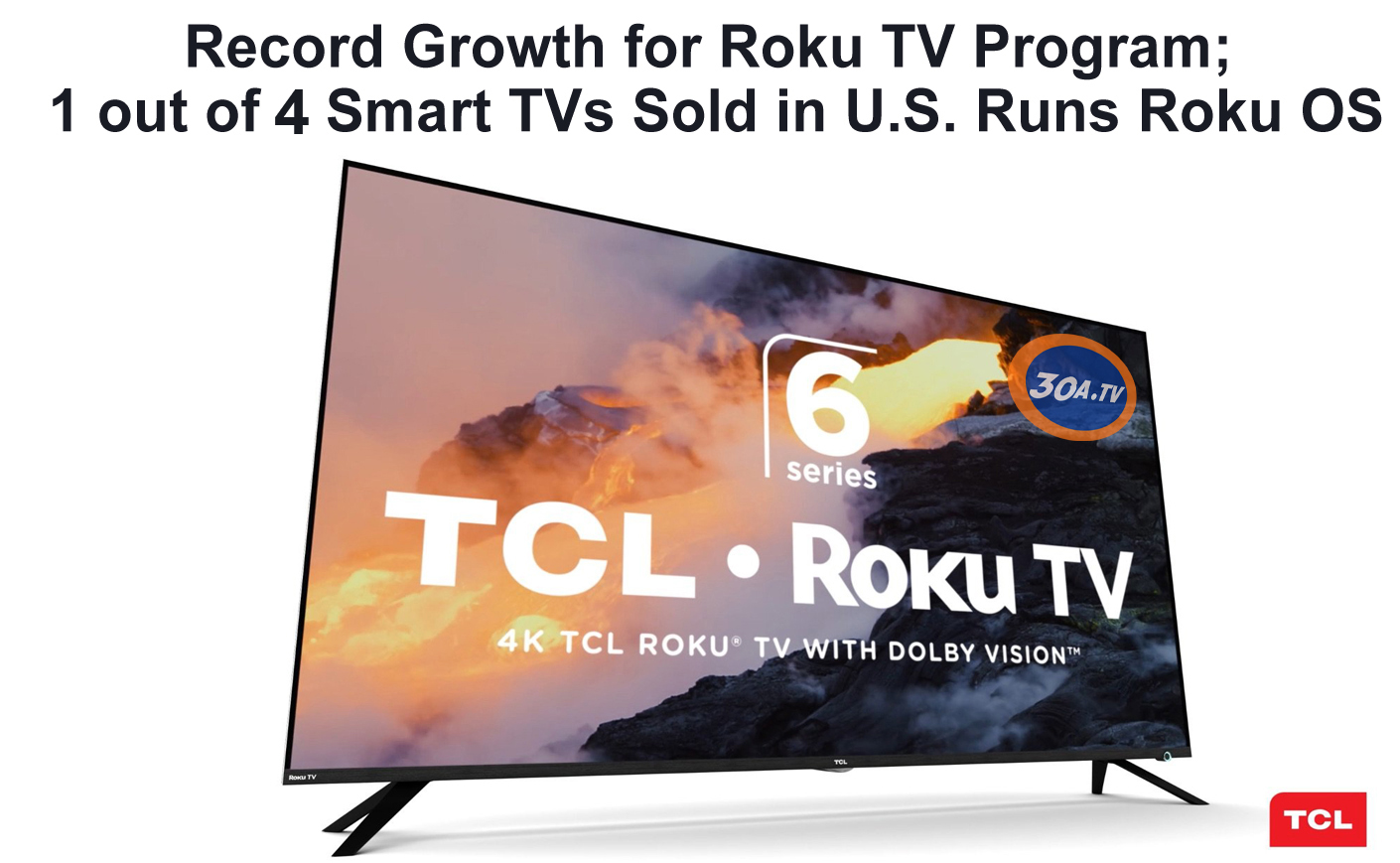 If, by now, you don't own a ROKU, Apple TV or AMAZON Fire TV, chances are you know someone who does. More recently, one in 4 tv's sold in the USA use ROKU or AMAZON Fire TV to power the interface, and remote controls, including voice search. While cable and satellite owners jump ship and cancel service at a rate of 100,000+ per month, the slack is picked up by streaming TV.
Streaming television is replacing traditional cable and satellite, fast. Cord Cutting, as it's known, is probably mis-named since the need for an internet connection is required, most providers do still wire a home to install internet.
How does it work? Your television, if not already a "Smart TV" (Wifi inside) can be made so by purchasing a ROKU or AMAZON  device to add into a port on the tv. Once installed, a myriad of channels can be sought, most free, some premium subscriptions such as HULU or Netflix. Most popular free channels include Crackle, for movies, and Pluto TV for live tv shows.
This is quite the revolution in place, and the "Big Guys" have entered the race. Sling TV is owned by Dish Network, Pluto owned by Viacom, and Disney is about to launch it's own rival to Netflix. What would be the main reasons for chopping your cable or satellite in favor of streaming tv?
Cost is certainly a factor. Most homes are internet connected, so why not cut the bill from $120 or more down to $50, about the going rate for basic internet. Choice is the other. The content and channels available – including the favorite networks, are all available using cord cutter services. Even local channels, via the affiliate networks, are embracing streaming TV. Local tv outlets in this area are accessible via ROKU and Amazon TV. The service we subscribe to has local channels in 200 cities, giving access to viewers never seen before.
Under the surface of the networks and movies, another game changing trend is emerging. Business channels.
Local businesses are now embarking on launching youtube channels, making videos, and launching channels on smart TVs and ROKU as never seen before. Access to video, how to make watchable content has now become a low cost tool to use for explaining products and services, but even more importantly, the personal touch. Putting a face to a business, alongside video showing new products, realtor open houses, documenting anniversaries, the list is endless. And viewers cant get enough of it.
Some staggering statistics;
If a person started watching every video on youtube it would take 2,500 YEARS to watch them
81% of businesses say that video has helped them effectively increase sales (Optinmonster)
80% of people would rather watch a video from a business than read their website. (livestream)
The live streaming platform Twitch has 665 million viewers — a bigger audience than subscribers to HBO, Netflix, and ESPN streaming services combined
By 2020, 85% of all traffic on the internet will be video. 25 million have ROKU – 34 million have Amazon TV.
TV (cable) is dead – Long Live TV (Streaming)
About 30a Media
Our goal is simple, to be the #1 video resource for information, entertainment, beach style. 30A TV Broadcasts in 9 counties of the NW Florida Panhandle, nationwide on Roku TV, Amazon Fire TV, Google Play, and at www.30a.tv  –  Download our free Iphone and Android apps to watch live. 30a Media remains committed to continue innovating and providing our viewers with the content they are asking for. www.30a.tv
The post What's on 30A TV —  TV is dead – Long Live TV appeared first on South Walton Life | 30A News, Events and Community Information.