By Susan Benton
Go to the beach every day, eat fresh seafood, and make lasting memories is probably on your vacation bucket list. South Walton and 30A are in a prime location to easily source the highly sought after briny bivalves of the Gulf. Oysters in the area typically come from the West Bay of Panama City Beach, Apalachicola just a few hours away, and our neighboring Gulf states of Texas and Louisiana. Though they are traditionally enjoyed with hot sauce, saltines, and a cold beer – oysters are now being prepared in a wide variety of ways. However you decide to throw them back and slurp them down, be sure to visit one of these 30A hot spots for your oyster fix.
Oysters All Day, All Ways
Don't be deterred by the name! Stinky's Fish Camp is a long time favorite in Dune Allen Beach for fresh seafood and drinks. They also happen to be a well known spot to get your hands on some oysters, and their Oyster Log adorned with 36 baked oysters is definitely something to write home about. A foot long piece of driftwood is topped with 3 dozen delectable oysters prepared in a variety of mouthwatering styles including BBQ butter, shrimp and crab, cheddar jalapeno, and smoked gruyere with bacon.. The log is a Stinky's signature for a reason, and might even end up being the most memorable part of your trip.
Live music, Great food, Gulf views
Shunk Gulley is one of 30A's newest restaurants and was named 30A's Hot Spot for Best Raw Oysters. It sits in Santa Rosa Beach at Gulf Place with an open-air concept overlooking the Gulf of Mexico. Offering 40 feet of panoramic views, the upstairs open-air dining room is the perfect place to grab a casual bite to eat. When you come to Shunk Gulley, you can count on two things: fresh oysters and a stunning view.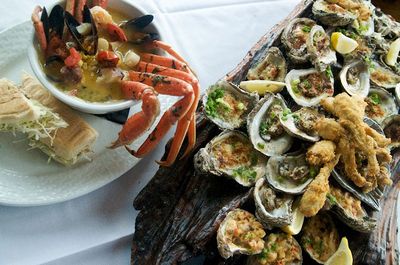 Hurricane Oyster Bar is a long-standing fun and funky restaurant that serves oysters in an impressive range of fashions. Try the "World Tour," and you'll get a sample of five different styles of raw oysters in styles influenced by international foods from Mexico, Russia, Germany, Japan. Perhaps the most unique flavor on the tour is Japanese, which is a raw oyster topped with hot & sour sauce, seaweed, and ginger. Hurricane Oyster Bar is bound to have a flavor for every kind of oyster eater.
Shrimpers: Family owned and operated since 1977
This much-loved local seafood market is a staple in the South Walton community for providing locals and tourists alike the freshest seafood at fair prices. Jump up onto Highway 98 and take a quick drive over to Shrimpers Seafood Market in Santa Rosa Beach and pick up a bucket of freshly caught oysters to bring home.
30A Oyster Bar: A Shucking Good Time!
It's time to step up your shrimp boil game and throw an oyster shucker into the mix. 30A Oyster Bar is a locally owned company that brings the oyster bar to you. This private catering service can accommodate events, parties, weddings, and dinners of any size, shape, or style. Rick, the owner of 30A Oyster, is an oyster shucking champion who promises to deliver only the freshest quality local seafood via his oyster bar on wheels. Watch the master at work from the comfort of your own home.
Pizza Bar in Seaside just starting serving raw oysters from Panacea, and Great Southern in Seaside has an Oyster Happy Hour too. One of my favorite seafood Markets is Destin Ice 30A at Inlet Beach. So what are you waiting for? You've got oysters to eat, and a cold drink with your name on it.

The post Where to Get The Best Oysters on 30A appeared first on South Walton Life | 30A News, Events and Community Information.
South Walton Life | 30A News, Events and Community Information South Walton Life | 30A News, Events and Community Information READ MORE