By Lisa Cyr
Summers come and go like the ebb of the ocean waves. August waves goodbye to a season of breaking the routine of school and work. School comes in gradually with supply shopping and beginning the process of "back to school". Learning never really stops, it's just a shift in routine. But, the process that never seems to stop is music. It's everywhere you go, songs going round and round through the mind. It's the type that makes one hum even if it is a Christmas song in July.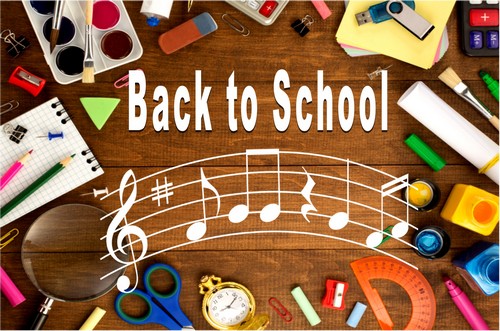 Add the idea of music lessons to the "to do list" for back to school. Among all the soccer, lacrosse, basketball, horseback riding, gymnastics, jujitsu, golf and so many more physical activities, why not consider a life skill with no bumps or bruises that makes others smile, dance, and laugh? It's a character building skill which drives one toward creativity. Playing an instrument is mindfulness at its finest. It really does take one away from all the cares and worries of this world. Learning how to play a musical instrument is a fun part of making memories that will last a lifetime.
Studio 237 Music is entering the season of lessons again. The teachers are ready to impart and create special musical learning memories for children and adults. It's that simple change of perspective, that turns a run of difficult notes from an impossible mess into an easy walk. It's like when one cleans up their laptop's hard drive or uninstalls all those cell phone apps that are never used. Good teachers have a way of helping firm up a good foundation and then clear out time-wasting stuff. In the end, one smiles and reaps the reward.
Students are the utmost focus, each having a unique personality and learning style.  Teachers design lesson plans for the most growth for each student. At the end of each semester, students might choose to share their music with family and friends at one of the recitals, or they may choose to keep their music private for personal enjoyment. A relaxed atmosphere for all is the goal.
View all of the teachers on the website www.Studio237Music.com, just look for the teachers tab. See who or what instrument peaks one's interest. It could be guitar (acoustic or electric), bass guitar, piano, keyboards, ukulele, voice, violin, viola, cello, drums, song writing, mandolin, shofar, etc… Do that "mindfulness thing" and listen to music with various instruments. Close one's eyes and see what draws one's interest.  Or just call 850-231-3199, schedule a studio visit, meet a few different teachers, handle some instruments, and ask for suggestions. For me personally, when I heard and touched a piano and clarinet, I just knew that I wanted to learn how to play them. To this day, I still can't believe my parents wanted me to play my uncle's accordion! Ha, my worst nightmare instrument! As a scrawny, seven year old girl, I would have been squashed.
Wishing everyone a great transition from "vacation" to "back to school" this month. Please add music lessons to the "to do list" and call 850-231-3199, or online at https://www.Studio237Music.com.
The post Studio 237 Music Lessons: Back to School  appeared first on South Walton Life | 30A News, Events and Community Information.