It's been just over four months since the Walton County Tourist Development Council and the South Walton Beach Service Association rolled out its managed vendor program at the Inlet Beach Regional Beach Access, Ed Walline Regional Beach Access, and Grayton Dunes public beach access, and the results have been promising.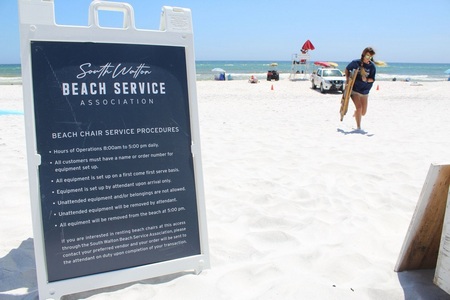 "The effect was immediate," says Brian Kellenberger, director of beach operations for the Walton County TDC. "We've received many positive comments from beach visitors and the general consensus is to expand the program."
The goal of the managed vendor program is to help eliminate issues with "ghost chairs" while also streamlining the guest experience for those renting beach chairs, umbrellas or other equipment. A total of 18 vendors currently participate in the program.
To participate in the managed vendor program, individual vendors must be permitted through Walton County; they must sign the South Walton Beach Service Association's participation agreement; drop off/pick up equipment as needed or store their equipment in the association's storage boxes on the beach. Vendors are not allowed to set up or remove equipment on their own, and they must pay a fee based on how many beach sets are rented out.
Currently, the program is in effect at only three South Walton beaches – Ed Walline Regional Beach Access, Inlet Beach Regional Beach Access and the Grayton Dunes public beach access – and will run through Nov. 30.
When visiting a beach where the vendor program offered, you'll notice a beach attendant who is on hand to work directly with guests. They will assist with obtaining and setting up equipment. When the guest is done, the beach attendant will remove everything from the beach.
With the inaugural season wrapping up in the next couple of months, Kellenberger said they have already started some evaluations of the program as they look for ways to improve it in the future. As with any new program, there are always lessons to learn and processes to fine tune.
"I think we can do a better job of accommodating walk-up business with a point of purchase-type system," he says. "We can also improve on staffing and doing a better job of communicating how the program works and where the program is in effect for beachgoers."
As for the next steps, Kellenberger says the Walton County Board of County Commissioners will review the program at a future meeting and determine whether or not it should be expanded to other regional and neighborhood beach accesses in South Walton.
To learn more about the managed vendor program, contact Phillip Poundstone at info@swbsa.org or call (850) 832-8715.
The post Managed Vendor Program Receives Positive Response on the Beach appeared first on South Walton Life | 30A News, Events and Community Information.