Ascension Sacred Heart Emerald Coast has added a surgical robot designed specifically for joint replacements.
The Stryker Mako robotic system allows surgeons to create a patient-specific 3D plan and perform procedures using a surgeon-controlled robotic arm. Robotic-assisted surgery is a newer approach to hip and knee replacement that offers a higher level of accuracy in the alignment and positioning of implants. For many patients, robotic surgeries often mean less pain and a quicker recovery.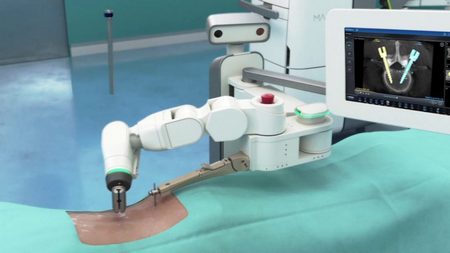 "Mako enables us to provide each patient with a more personalized surgical experience based on their specific anatomy," says Dr. Mark Tenholder, an orthopedic surgeon who performs joint replacement surgery at Ascension Sacred Heart Emerald Coast. "We can customize each patient's surgical plan and implant placement before entering the operating room and use the robotic arm to execute with a higher level of accuracy. I can also make small incremental adjustments during the surgery to balance the soft tissues around the knee or hip, which results in more natural motion and function of the joint replacement."
The hospital has been consistently recognized for superior outcomes in joint replacement. A leading healthcare ratings organization recognized the Emerald Coast facility as one of the nation's 100 best hospitals for orthopedic surgery in 2017, 2018 and 2019. At the same time, a study by the U.S. Centers for Medicare & Medicaid Services found that consumers and insurers paid less than the national average for joint replacement surgery at the hospital.
"We are proud to offer this highly advanced robotic technology in our area," said Roger Hall, president of Ascension Sacred Heart Emerald Coast. "This surgical advance further demonstrates our commitment to provide the community with cost-effective, high-quality orthopedic care."
To learn more, visit www.healthcare.ascension.org.
The post Surgical robot for joint replacements appeared first on South Walton Life | 30A News, Events and Community Information.
South Walton Life | 30A News, Events and Community Information South Walton Life | 30A News, Events and Community Information READ MORE