Continuing its golden anniversary season, the Northwest Florida Ballet (NFB) presents the fortieth annual production of the classic holiday fairytale The Nutcracker on Fri. and Sat., Nov. 22 and 23 at 7:30 p.m. and Sun., Nov. 24 at 2:30 p.m. Performances will be held at the Mattie Kelly Arts Center and will feature live music by the Northwest Florida Ballet (NFB) Symphony Orchestra.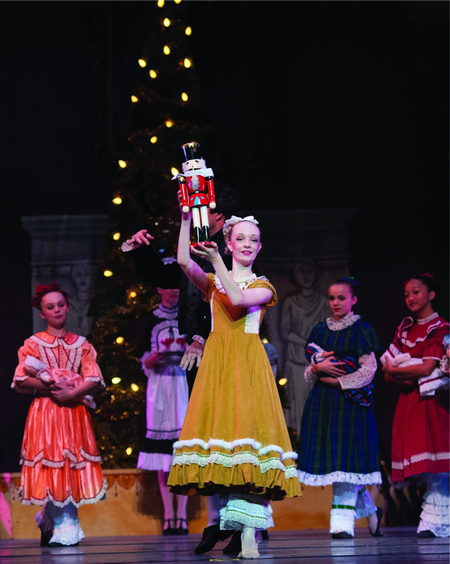 NFB's production of The Nutcracker includes a cast of over 140 performers, including over 100 local children and international guest artists. This season the role of Clara will be performed by Scarlett Bennett, who will dance with Noah Cook performing as the high-spirited Fritz. Bennett and Cook attend the NFB Académie and are in the 7th and 6th grades, respectively. NFB's Artistic Director/CEO, Todd Eric Allen, will dance the role of Drosselmeyer, and NFB Assistant Director Shari Allen will be the vivacious Mouse Queen.
"We are incredibly grateful to celebrate NFB's fiftieth anniversary as well as our fortieth production of The Nutcracker with the community. This production brings such joy to families all along Northwest Florida each year as they come out and mark the beginning of their holiday season. With the live musical accompaniment by the NFB Symphony Orchestra, it is unlike any other performance in our area," said NFB Artistic Director/CEO Todd Eric Allen.
The NFB Symphony Orchestra, led by David Ott, continues to be comprised of the finest musicians from the Southeast and abroad. In his fourth year as the NFB Music Director, Ott has been cited among America's most-performed composers of the late twentieth and early twenty-first centuries. Nominated for a Pulitzer Prize in music as well as Grammys, he has an extensive portfolio of compositions in every genre of music, from large-scale orchestra works to short overtures. His works have been performed or recorded by some of the most distinguished American and European orchestras.
In addition to its three public performances, NFB will also present two performances for area school children and special needs groups. These performances are part of NFB's Education and Outreach services and will be held on Fri., Nov. 22 and Sat., Nov. 23, both at 10 a.m. An Académie Alumni party will be held immediately following the Nov. 23 performance. Alumni of the NFB Académie should contact the NFB office at 850.664.7787 for tickets to the production and to register for the party.
The post The Northwest Florida Ballet presents the fortieth annual production of The Nutcracker Nov 22 and 23 appeared first on South Walton Life | 30A News, Events and Community Information.