By Tracy and Mark Stanley
Tracy and I were privileged to sit down with Haruko Shi at her beautiful home in Santa Rosa Beach. She served us the most delicious martini I've ever had, something with peach in it. Just the night before our interview she was overseeing a team of workers serving drinks and hors d'oeuvres at a rehearsal dinner attended by Governor Mike Huckabee and his daughter, Sarah Huckabee Sanders.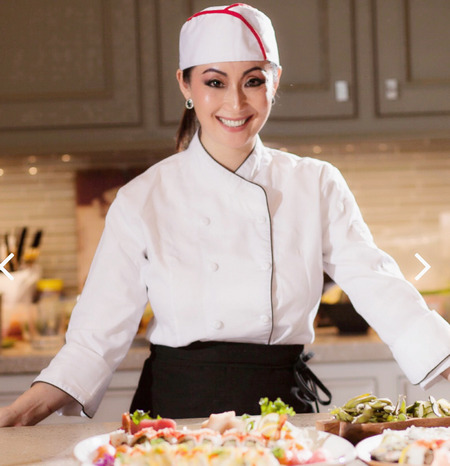 Her official title at Watercolor Resort, where the event was held, is Beverage Captain. An interesting title, to be sure, but her job entails much more than martinis. She is responsible for organizing and executing banquet events for the St. Joe Company, Watercolor Resort's parent organization.
On her off nights, away from the million-dollar weddings at the Watercolor Lake House, Haruko can be found in much more intimate settings. For the past few years she has moonlighted as a private sushi chef. Visit her website, www.sushiruko.com, and book her for a private party, a date night with your spouse, or a real estate open house. She even gives sushi making lessons upon request.
Haruko's path from a childhood in China to an Emerald Coast caterer was an interesting one. The daughter of an accountant and a factory worker, Haruko was born Chun Ying Shi in Shanghai. (Her given name, Chun, means "spring." The Japanese equivalent of the word spring is "haruko"). She obtained a business administration degree and immediately went into business for herself; first selling clothing and accessories and then as the owner of a Shanghai nightclub called Sparkle, which she built from scratch in the mid-1990s with seed money from her parents. In the busy months before opening her nightclub, she remembers often sleeping in her car to save travel time.
It was at Sparkle's sushi bar that she was introduced to that particular culinary art, although the finer points of its preparation were to come later.
After five years in the nightclub business, Haruko became restless and was ready to make another move. She wanted to see the world. What better way than to start an international import/export business? She did some research and decided that the Cayman Islands, literally on the exact opposite side of the world from Shanghai, would be a good place to do that. So, off she went to the Caribbean.
She obtained a temporary work permit in the Caymans and landed a job at a Hyatt Hotel in the capital of George Town in early 2002. The plan was to work at the hotel until she could launch her import/export business. Having some experience with sushi from her nightclub days, Hyatt allowed her to train with a Japanese master sushi chef. Within six months she was running the sushi bar at the hotel.
In the Caymans she became well-known for her sushi making. She was on the cover of magazines and even had a TV show. The hotel paid her a good salary in addition to covering her food, lodging and expenses. But for Haruko life is not about money. It's about experience. After five years in the Caymans, the tiny island nation could no longer contain her ambition.
"I needed something new," she said. "I wanted to learn something more."
She fell in love with Florida while traveling in Miami as a tourist. In 2007 she left the Caymans for good and began working at a Hyatt in Sarasota. Two years later she became an American citizen.
It was photography that first brought her to our area. She had always been passionate about taking photographs, especially on the beach. A few years after arriving in the states, she did a Google search for the best beaches in Florida, and decided to take her camera to South Walton. She has been here ever since. And this latest move she says, is permanent. She met her fiancé, Will Sullivan, a professional photographer, while both of them were shooting beach scenes at the Ed Walline public beach access at the same time. They take frequent photography adventures together around the world.
As Tracy and I were finishing our peach martinis we asked Haruko to recommend a local place to experience sushi. She encourages everyone to try Sushimoto in Miramar Beach.

The post Faces of South Walton: Haruko Shi appeared first on South Walton Life | 30A News, Events and Community Information.