By Josette Rhodes
Every so often an artist comes along with that little something special. As you hear their song, you find yourself listening a bit deeper, you feel your head tilt as you pause to catch every tone and word. A hush will move through the audience as the attention of the crowd is captured by an uncommon talent. Allow me to introduce to you, a young man who embodies that something special, Logan Pilcher.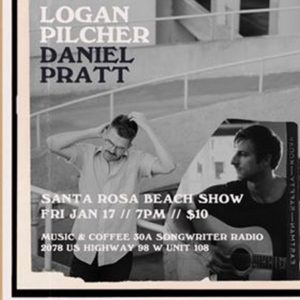 Logan Pilcher is an indie folk artist whose writing style was birthed at open mics across the panhandle. His lyrics tell a story of unapologetic love in the face of doubt and adversity. With each composition highlighting a unique reservation, combated with reckless hope.
During the summer of 2016 Logan made it a mission to find his sound. He says, "30a Songwriter Radio was a safe place to cultivate my talent and create my own unique style. That summer I found my voice. I'm so thankful I had a spot like 30A Songwriter Radio Music & Coffee Cafe to be myself. I think every artist needs this sort of support to become the true creative they are meant to be."
I remember the first time we heard Logan Pilcher perform at our Tuesday night Open Mic. As he took the stage he said he hasn't really been playing in front of an audience and he is just kinda trying out some songs he wrote. As his first song came to an end the audience erupted in applause and comments such as… "if this is just him trying out a song"… and… "there is no way he doesn't play professionally"… to… "I'd pay to hear this kid play"… were heard throughout his performance.
Logan Pilcher has been releasing and touring consistently since 2017. His recent album is split into two parts. "Good Fortune Vol. I" is out now. "Good Fortune Vol. II" will be released early 2020. Pilcher states, "Most of these songs were written while I was living in Santa Rosa Beach. 30A Songwriter Radio's Music & Coffee has pretty much heard every version along the writing process. The open mic is my testing ground."
Logan Pilcher will be returning to Music & Coffee on Friday, January 17 to play his new record "Good Fortune Vol. I." Local songwriter Daniel Pratt will be joining him as they perform their original music. An intimate performance with one of today's most talented up and coming artists. *Limited seating. Tickets are available at 30A Songwriter Radio and Eventbright.
The post 30A Songwriter Radio Artist Spotlight: Logan Pilcher  appeared first on South Walton Life | 30A News, Events and Community Information.