By Lisa Cyr
When congratulating our youngest son, Luke, on his 26th birthday, I mentioned to him a song entitled "Clair de Lune" (moonlight) by Claude Debussy which he performed on piano at around age 12.  I recall him performing it beautifully. His response was:
"I remember I took up learning to play piano because I loved watching you play from your books.  I thought that was very magical. I specifically remember that song "She'll be Coming Around the Mountain.  I must've been like 3 years old."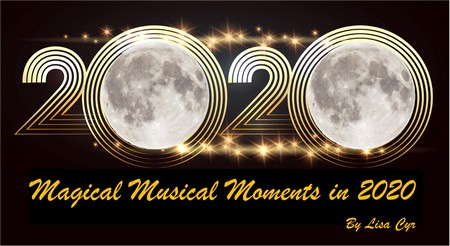 Little did I know that moment would carry him through college, composition, performance and completing a bachelor's degree in music from FSU-  Shaping his personality, character, creativity, and drive for adventure. His study of music became like food for living.
A love for music happens at a young age. At the time, I didn't realize how much of a lasting impression I was making inside of Luke.  Piano was fun and something I naturally wanted to share. I tried to choose songs that the children related to (not always the classics).
I suppose magical moments happen all the time when experiencing music. Holiday music tends to evoke nostalgic memories of times with family, friends, and "the season".  It changes a simple living room into a winter wonderland of cozy blankets and hot chocolate. Fond memories of simpler times. Specific periods of time such as the 60's with the advent of the Beatles' songs bring a smile to one's face, rose colored glasses, and rainbows. What carefree fun their music gives us!  Then came the rock of the 70's. Oh yeah! "Schools out for Summer!", "Bohemian Rhapsody", "Stairway to Heaven" and, of course… "Sweet Home Alabama." Each decade's styles seemed to evolve into new magically creative tunes. It's just endless.
So here we are entering 2020. A new decade of young musicians. What might that bring to us now?  Soon we will see collections of music entitled "Songs of the 2020's"! I hope that the next generation of young musicians will use their musical study of past styles to bring inspiration, positivity, and happiness into our future. Teaching music isn't just about learning classics (like "Claire de Lune") but learning the mechanical technic of how the song develops. Debussy heard layers of sound that morphed from one chord to the next with the use of single note changes.  Sort of like you are floating. He definitely made an "innovative impression" on people by breaking away from the predictable melodies of the early 1800's. So keep your ears open, listen for the changes in popular music. Seek ways to affirm and support your friends and family as they study, learn, create, and develop the music of 2020! It's going to be a fun ride. Oh! and listen to "Claire de Lune" on your phone, YouTube, Spotify, etc.…or even on "vinyl". It will take you away.  Happy New Year!
Studio 237 Music of Santa Rosa Beach, FL, teaches music lessons (violin, cello, guitar, ukulele, voice, piano, drums, and more) to students of all ages.  For more information call Ray or Lisa Cyr at 850-231-3199. Visit our website www.Studio237Music.com or email at Studio237Dawson@gmail.com.
The post Studio 237 Music School; Magical Musical Moments for 2020 appeared first on South Walton Life | 30A News, Events and Community Information.