As the late winter sun starts to warm the Emerald Coast, families who love spending time on the water or just enjoying the coastal lifestyle have an upcoming weekend all their own at Aaron Bessant Park in Panama City Beach.
The 4th annual Emerald Coast Boat and Lifestyle Show will be held February 28-March 1, located adjacent to Pier Park and presented by the Panama City Beach, Bay County Tourist Development Council and Pirates Cove Marina. Locals and visitors from as far away as Birmingham, Nashville, Tallahassee, Orlando, New Orleans and Houston all come to see more than $40 million of marine inventory on display. If you're in the market for a boat, this is your weekend in Panama City Beach!
It's easy to think of a boat show as being indoors, crowded and something to pass away a rainy day. That may be true in other parts of the country, but not here on the Emerald Coast. This boat show offers you a chance to compare boat makes and models from many different dealers in a relaxing, open-air setting with plenty of room to 'touch and feel' any boat in the park.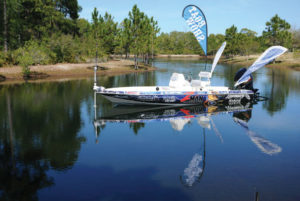 No matter what type of boat you're interested in, you can be assured it will be on display at the Emerald Coast Boat and Lifestyle show. Local, regional and national boat dealers and marine professionals all flock to this show and they bring with them their finest inventory of boats, high tech engines, electronics and marine accessories. All on display at Panama City Beach's newest and most manicured park…and all at Boat Show pricing!
What is Boat Show pricing? This is when the marine industry unequivocally offers 'The Best Time of the Year' to buy a boat! Dealers and manufacturers offer special incentives that are only available during the hours of the show. Plain and simple, every boat dealer at Aaron Bessant Park is there for one reason…to sell boats and sell them at this show!
Many new boat owners and existing boat owners use this weekend to learn about the advantages of indoor boat storage and boating concierge services available in Panama City Beach from the both Pirates Cove Marina and Lighthouse Marina.
Equally appealing to attendees is the 'Lifestyle' portion of the show. Whether you're a resident, second homeowner or visitor, whatever makes you love our 'Coastal Lifestyle' will also be displayed on the park's 70 acres of green grass. We look forward to seeing you there!
Maybe you have been thinking about getting into stand up paddle boarding or perhaps you want to upgrade your current board? What about a fishing kayak? Or maybe you want to learn about diving and spear-fishing? On any of these topics, and countless others, you can get advice from the pros whether you are a novice or an expert.
If you love to fish, you probably love fishing tackle too. Huge displays of lures, rods, reels and the latest fishing technology will all be on display from local tackle shops and national product reps to ensure the best pricing in the nation occurs right here in Panama City Beach!
For those who prefer to have the asphalt under them as opposed to water, you can take a test drive on street-legal electric golf carts, motorcycles, bicycles or one of the luxury automobiles that always draw huge crowds at this show.
In addition to boats, the show also features free marine art lessons for kids, coastal fashions and active-wear, outdoor kitchen products and coastal-style furniture those days spent at the beach house or condo. There is really something for everyone, including dogs! Four-Legged friends are welcome at the show, just be sure to pack your pups' leash.
It's easy to spend the whole day at the Emerald Coast Boat & Lifestyle Show and still maybe not even see everything at this ever-growing show! But there is no need to rush. You can grab a bite from the onsite gourmet food trucks. You can enjoy a soft drink, local craft beer or glass of champagne as you stroll around and listen to live music or the many fishing and boating seminars throughout the weekend.
Show hours are 10 a.m. to sunset on Friday and Saturday, February 28th and 29th and 10 a.m. to 5 p.m. on Sunday, March 1st. You can skip the line and purchase tickets online at www.emeraldcoastboatshow.com or just grab them at the gate. Either way, mark your calendars for another great, family-friendly event in Panama City Beach.
The post Boats, Fun at the Emerald Coast Boat & Lifestyle Show Feb. 28 – March 1 appeared first on South Walton Life | 30A News, Events and Community Information.
South Walton Life | 30A News, Events and Community Information South Walton Life | 30A News, Events and Community Information READ MORE