By Melanie Barrett
Since the opening of 30A Swim Dog in 2014, they knew they'd be helping dogs of all ages, shapes and sizes with issues that would not be able to be helped in any other way. Dogs would have arthritis, hip dysplasia, and be post-surgery, etc.
One issue that was fairly new back then was degenerative myelopathy (DM). Degenerative myelopathy is a progressive disease of the spinal cord in older dogs, and shows up typically between 8 and 14 years of age. It begins with a loss of coordination in the hind limbs. The affected dog will wobble when walking, knuckle over or drag their feet. This can first occur in one hind limb and then affect the other. As the disease progresses, the limbs become weak and the dog begins to buckle and has difficulty standing. The weakness gets progressively worse until the dog is unable to walk.The clinical course can range from six months to one year before dogs become paraplegic. If signs progress for a longer period of time, loss of urinary and fecal continence may occur and eventually weakness will develop in the front limbs. But, it is not a painful disease. What causes it? It begins with the spinal cord in the chest region, where there is degeneration of the matter of the spinal cord; and recent research has identified a mutation in a gene that confers a greatly increased risk of developing the disease.
Since 2014, when 30A Swim Dog first opened, several dogs have come in with DM. The majority of the breeds that have come for swim therapy have been Boxers, but also Australian Shepherds. When pet parents reach out with no hope for the future, and no direction from their vets, they just know that those dogs need swim therapy. Several dogs with DM can't walk, but can swim in the water.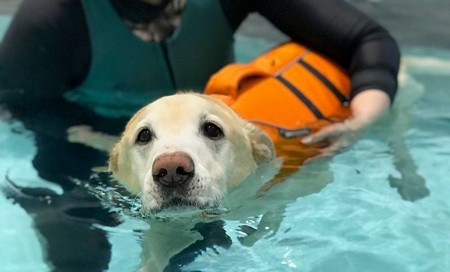 Rebecca and Barry Dixon are snowbirds from New Hampshire who found 30A Swim Therapy when they were vacationing here and their dog began having trouble walking. "In 2018, we discovered that our Boxer, Ezzy, had DM. As devastated as we were over learning about the effects of this disease, we were determined to identify the best exercise and care that would help keep our baby girl strong," Rebecca Dixon said. "We learned that dogs who receive hydrotherapy have shown less symptoms of progression of the disease. We searched the Walton County area and found Melanie Barrett of 30A Swim Dogs in Santa Rosa Beach, Florida. After having a consultation with her and researching her training and certification we were very excited to get started with Ezzy's hydrotherapy sessions. We have been impressed and delighted with Melanie's professionalism and observations of Ezzy's condition and progress in gaining strength and endurance. Boxers typically are not water dogs! Melanie's hydrotherapy sessions have given Ezzy a better quality of life. She has maintained and even increased the muscle tone in her legs which is integral in maintaining balance and supporting her gait. Ezzy still uses her walking wheels to assist her on long walks, but after her hydrotherapy sessions Ezzy wants to walk without them and she has increased her distance. Ezzy's swim therapy sessions have been a crucial and integral part of her rehabilitation that has strengthened the weakened areas of her body and assisted her in building muscle and confidence."
Dogs with DM that usually have a life expectancy of nine months, have lived 18 months participating in swim therapy and energy medicine. Melanie is also a dog behaviorist, owns emeraldcoastdogbehavior.com and has trained with Cesar Millan. She can be reached at 850-218-0476, and her canine aqua therapy website is 30aswimdog.com. She is also a Healing Touch for Animals certified practitioner, which is an energy medicine worker.
The post Swim Therapy for Degenerative Conditions in Dogs appeared first on South Walton Life | 30A News, Events and Community Information.