By Dee Cruce
May 6th, 2020 was truly a glorious day to be out and about in SOWAL. The weather was sunny and perfect. The humidity was as low as it gets here and the temp was a delicious 73 degrees for the high. I also had the pleasure of meeting the new owner of South Walton's beloved GulfWind Paddle and Surf, (GWPS), Dan Heldt. Not local to this area originally, he and his wife, Becky, moved here from Indiana several years ago to take in our spectacular views long into their golden years. Becky's family visited the Emerald Coast every summer while she was a child and fell in love with our hometown years and years ago. Dan and Becky have been married 36 years now and have been coming here every single year since they got together. Last November they decided to purchase GWPS from everyone's favorite local, Steve Ortner.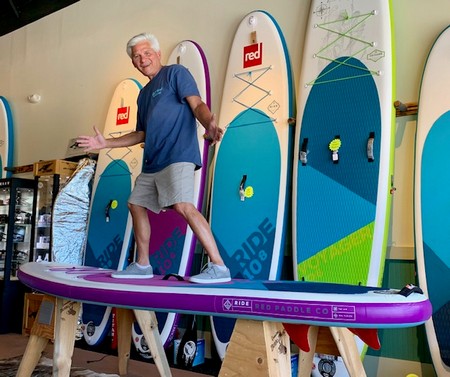 Since taking the helm, Dan and Becky have really grown the shop. Not only can you find the world's best paddle boards there and numerous Yeti cooler products, but they now have skimboards, surf boards, a great selection of kayaks, bodyboards and, my favorite- the inflatable Red Paddle Co. board. I'm comfortable saying this may be the best board shop in the county…if not the country. Let me elaborate… Most boards you find on the market come with a 1-year warranty. Not at Gulf Wind. Dan's boards, in most cases,  come with a 5-year warranty. Boarding is Dan's passion and it really shows when you come in and talk with him. Heck, I came in just to talk to him and left with an inflatable board that I can't wait to take with me to Montana this summer and a ukulele!!! That's right, a few of Steve's ukuleles are still available for a limited time. I feel really good about this purchase too because I know I bought from an honest and local vendor who's passionate about boarding and I get a 5-year warranty for my board!!! What a deal.
When I asked Dan what he and his family love most about this special place, he didn't hesitate to tell me how wonderful the people are here, how beautiful it is and how good the food is at Grayton Seafood Co. He loves launching his board from Ed Walline and Grayton Beach parks and I think I've turned him on to my absolute favorite place on Earth, Eden State Park.
Feeling pretty good about myself and my conversation with Dan, I decided to head home before he got really busy and process our discussion. As I was driving home, I took time to view the charred landscape around the Mussett Bayou fire area. GWPS is quite close to the sad epicenter. Having lived here for more than 30 years, I realized I took much for granted. We are so lucky to call this place home. Life here is a true blessing
As we press through this unprecedented and difficult time,  I hope we can all take some time to reconnect with nature and recharge our minds, hearts and our spirits.  I can't think of a better place and nicer people to visit Dan and Becky Heldt at GulfWind Paddle. What better way for anyone to reconnect with nature through surfing, canoeing, kayaking or paddleboarding. So, come on down and visit Dan and Becky any day Monday – Saturday, from 10-6 PM. To follow GWPS online please visit, www.paddleboards30a.com; or on Instagram @Gulfwind30A or on Facebook @ Gulfwindpaddleandsurf.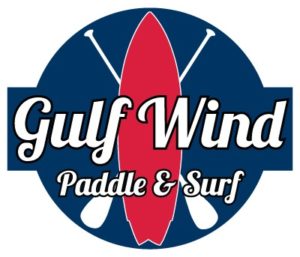 The post GulfWind Paddle and Surf in Santa Rosa Beach Welcomes its New Kid in Town appeared first on South Walton Life | 30A News, Events and Community Information.
South Walton Life | 30A News, Events and Community Information South Walton Life | 30A News, Events and Community Information READ MORE