By Lisa Cyr
Here I am again, on the back porch enjoying my hedge of clumping bamboo.  The ongoing joke for the last three years has been, "I'm watching the bamboo forest grow today." It started out with a vision to create a unique privacy hedge. The plants were small with just a few stems, now they are eight feet tall, bushy, and give me that "Chi" feeling. I looked forward in anticipation to the moment I am now experiencing.  Ahhh.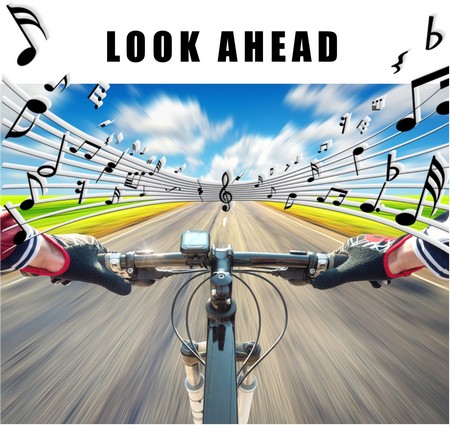 As a piano music teacher, one of the skills I teach my students is to look ahead in the music.  A form of prepared anticipation. Like riding a bike, looking back at a missed note causes a distraction from the notes you are currently playing, and will certainly affect your performance.
It's not easy to look ahead. If we focus on small chunks of notes at a time, the music will not flow properly. We must aspire to move forward, to look ahead, and not get stuck in the same six note muddy rut.  It reminds me of the first four words of Jingle Bells played over, and over, again.
Each practice day, you add several new bars of music.  Within a week, the song is complete. You see the "big picture" and your mind is free to be several steps ahead of where you are currently playing, enjoying each and every moment in anticipation of a beautiful ending.  Then suddenly, you are there.  Are you there?
Aspire Summer Music Programs are here!  at Studio 237 Music.  And continuing throughout the extended summer!  Private one on one instruction. Many are taking the opportunity to master their musical instrument or learning another at a weekly discounted rate.  Daily, one-hour lessons for 5 days in a row.  Each day building ability for the next.  Some will continue with their one on one private instruction throughout the summer.  Call 850-231-3199.  The following are the programs we are offering:
Creative Song Building for Kids: (ages 7 and up) Learn the fundamentals of composing an original song. Plan, build and perform a song with others as a team. (5 consecutive days)
Drum Set or Marching Drumline Lesson: (ages 7 and up) 
Students learn tempo, count-ability, accent-ability, playing different beats, to ride the rhythm of the music on a drum set or single drum.  Marching band students will learn how to drum and march in step, playing snare drum, quads, or rudimental bass drum.
Piano/Keyboard Basics: (ages 5 and up)
Students get the feel of a typical piano lesson process while learning piano basics.  Includes lesson book.
Private Instruction 5 days in a row: (ages 7 and up)
On the instrument of your choice including piano, guitar, bass, violin, drums, ukulele and shofar. Beginner to advanced students.
Private Instruction Once Per Week:  Study an instrument for the summer months at our normal monthly rates on piano, guitar, drums, ukulele, and violin.
Studio 237 Music teaches music lessons to students of all ages.  Call 850-231-3199 for more information or to schedule a studio visit.  Read about our teachers at our website: www.Studio237Music.com or send us an email at Studio237Dawson@gmail.com
The post Looking  Ahead appeared first on South Walton Life | 30A News, Events and Community Information.
South Walton Life | 30A News, Events and Community Information South Walton Life | 30A News, Events and Community Information READ MORE