By Sue Gambla
When a Massachusetts photographer decided she wanted to capture this unsettling time of quarantine and social distancing, she and a few other local photographers came up with a grand idea called The Front Steps Project (FSP) or #thefrontstepsproject.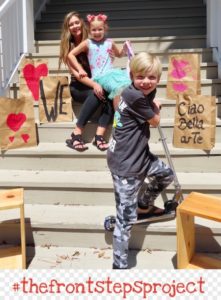 FSP is a volunteer photo session that allows families to give back to their favorite local charity with a love donation while spending just a few minutes being as creative as they like on their front porch or steps with their loved ones, and of course, their furry friends.
Generating smiles and laughter in the midst of a troubling time is the goal of The Front Steps Project. 200 plus photographers from all over the nation have raised in excess of $225,000 for local non profit organization, bringing big smiles to local organizations, This is indeed #somegoodnews!
Locally, participating families have donated to Destiny Worship Center, Alaqua Animal Rescue, Food For Thought and many other wonderful charities, helping manyin their time of need.
If you or your family would like to participate in the Front Steps Project you can contact Sue Gambla of Ciao Bella ArTe to capture your incredible smiles and to have a memory that's truly beautiful. There is beauty everywhere, just depends on what you are looking at. Find Sue on Facebook @CiaoBellaArTe.
The post One Small Act of Kindness Can Change A Nation appeared first on South Walton Life | 30A News, Events and Community Information.