It's easy to understand why Southern Living named Clay Garden & Gifts among the South's Best Garden Shops in 2020. The Seagrove nursery's artfully arranged plants make it a popular destination for locals and visitors alike. The owners have curated a collection of plants that thrive in the area along with unique finds not typically sold in big-box stores. But there's one plant in particular, the Peggy Martin rose, that always gets a lot of attention.
"We first learned about the Peggy Martin rose a few years ago when a wonderful customer asked us to seek it out," Jason Daniel of Clay Garden & Gifts, said. "Needless to say, it's been a huge success!"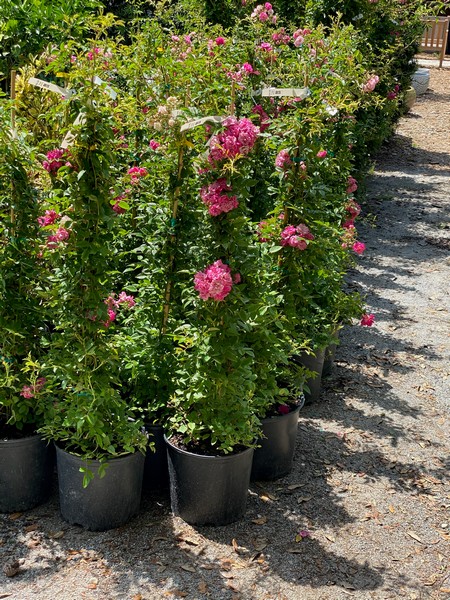 Not only is Peggy Martin a beautiful rose, she also has a story to tell. The semi-thornless, rambling rose with clusters of pink flowers, is named after Louisiana gardener, Peggy Martin. An avid rose collector and former president of the New Orleans Old Garden Rose Society, Martin had more than 450 old roses on her property, but there was only one that survived Hurricane Katrina. Katrina's deadly storm surge flooded the Martins' 12-acre homestead in the Plaquemines Parish with more than 20 feet of saltwater for two weeks. When they returned, months later, the garden was full of mud and blackened stems, but there was some green growth on an old rose planted by the tractor shed.
Martin had planted the rose 18 years earlier after receiving a cutting from her hairdresser, who had gotten a cutting of the rose from a relative's garden in New
Orleans. Martin, nor any of the members of the New Orleans Old Garden Rose Society, could ever pin down its name. Through the years, she continued to share cuttings of the rose with friends. One of those friends was Bill Welch, a rosarian and horticulturist at Texas A&M University. After Katrina, Welch came up with the idea to use the resilient rose that survived a hurricane to raise money to restore gardens damaged along the Gulf Coast. He shared his idea with the Greater Houston Community Foundation and the Peggy Martin rose was born. Welch worked with several nurseries across the South and the first roses became available to purchase in 2008, with a portion of the proceeds benefiting the restoration fund.
"The Peggy Martin rose has become a symbol of survival and rebirth," Daniel said. "This rose is a great addition to any garden, and the story behind it makes it even more special during these times."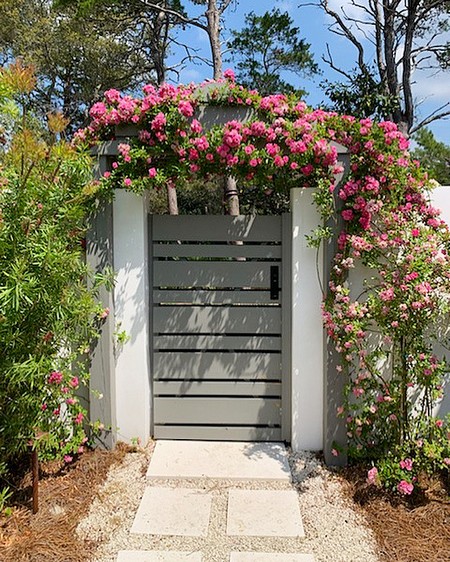 Peggy Martin roses are a favorite among Southern gardeners, due to their ease of care, disease resistance, and gorgeous, prolific pink blooms. The repeat-bloomer grows vigorously, reaching up to 15 feet, and will bloom spring through fall. Peggy Martin roses are categorized as climbers, but they need to be secured and trained to grow over a fence, trellis or wall. They should be planted in a full or mostly sunny spot with well-draining soil. Water well until established and fertilize twice a year. A limited number of Peggy Martin roses are available to purchase at Clay Garden & Gifts located at 4808 E County Highway 30A. If you would like to receive information about Clay's 2021 Peggy Martin rose delivery or other news, sign up for their newsletter at www.clay30a.com or follow them on Facebook or Instagram. In addition to roses, Clay has a large selection of annuals, perennials, shrubs, house plants, succulents, small trees and herbs.
The post The Resilient Rose Every Gardner Must Know About appeared first on South Walton Life | 30A News, Events and Community Information.