By Lisa Cyr
In June, it was time to refinish my bathroom vanity cabinet.  After gathering supplies and watching a variety of YouTube tutorials about chalk painting, I began to transform the dark outdated cabinet into a new look.  It took weeks as I deliberated over each brush stroke and layer.  The waiting between coats took hours. And I stressed over distressing the finish.  Daily, I stared at it, checking my work, seeking improvement, did I miss a spot? Finally, the cabinet was completed.  I posted the before and after pictures on my Facebook page.  I think people are inspired by before and after pictures.
Learning to play an instrument is like "before and after".  Here are some basic steps to follow:
Gather your supplies:  Choose your instrument.  Do some research online, listen to different instruments and styles of music.  Find out which genres you gravitate towards such as: jazz, classical, country, rock, blues, pop, etc..  If you choose piano, then you need to get one.  I usually recommend a used smaller sized "real" piano.  Something easier to move that will fit in well with your home.  If space is a problem then invest in a digital keyboard with weighted keys, touch sensitivity, internal speakers with above average piano sounds.  A keyboard often costs more than a used piano. We have some good information about purchasing a piano on our website (www.Studio237Music.com).
Get set up:  Where is my instrument going to be set up?  Create a music zone for yourself.  It could be a den, bedroom, or the living room. We had a music room where our children practiced, created, and played together without distraction.  They had fun learning to work together, experiment, write songs, and record albums. A variety of instruments were in there for them to try.
Choose a teacher to study with and plan to consistently attend lessons once a week, every week, on the same day, same time. Whether you practiced or not, you will learn something new weekly.  Don't give up.  Have patience with yourself and your teacher.  Teachers know from their many years of personal practice how to help you reach your next level.  Do what they ask you to do.  Even if you feel silly and/or bored.
Stay engaged in your playing.  It's easy to become impatient with the learning process (like waiting for paint to dry in between coats).  During those "waiting times", take a look at your progress, review old pieces you are able to play, make improvements, give an old piece a "new coat" of playing technique you have learned.
Step back and take a look.  Use your cell phone to record your performance.  Listen and compare it to the sheet music.  Examine problem areas in different ways.  A wise piano teacher said to me, "How you perceive the music can cause you to stumble or succeed."
When you have completed your piece, enjoy it.  Be proud that you have finished.  Memorize the music.  You are a better player and have "made the song yours" forever.
Lastly, share with your family or friends.  I have a young student who learned to play "America the Beautiful".  It was tough for him, he wanted to quit, then suddenly, he played perfectly from beginning to end (an online lesson!).  He proudly finished with a big grin.  I applauded and told him to play the song for his family on the Fourth of July.
Before learning to play, you knew very little.  During the process, you learned and practiced.  The "After" is when you have this amazing musical ability.  Best of all, you can share your songs with others and smile.  Wishing you a Happy 4th of July.
Studio 237 Music Lessons is open, and our staff are teaching lessons now on guitar, violin, drums, ukulele, cello, viola, piano, keyboards, voice, songwriting, and more.  Here at the studio or online.  July is a good month to start.  To get started, give Lisa or Ray Cyr, schedule a visit, try our Aspire 4 Music Summer Program half price specials.  Call: 850-231-3199 and website www.Studio237Music.com.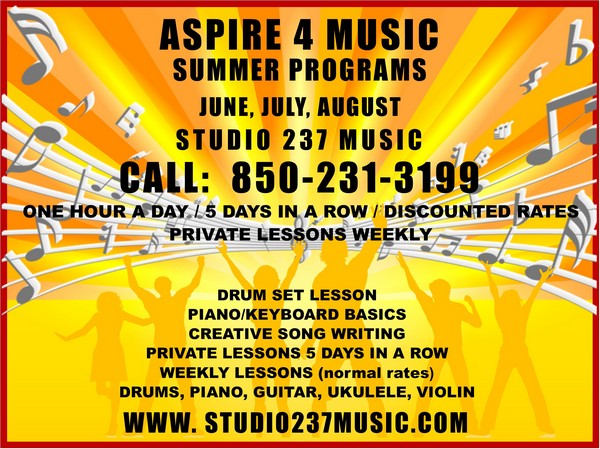 The post Before and After appeared first on South Walton Life | 30A News, Events and Community Information.