Sandra Carter is Walton County's newest candidate for the Walton County Property Appraiser. She has dedicated her entire career over 35 years to the Walton County Property Appraiser's Office, and her passion shines through as she pursues her dream of becoming Property Appraiser.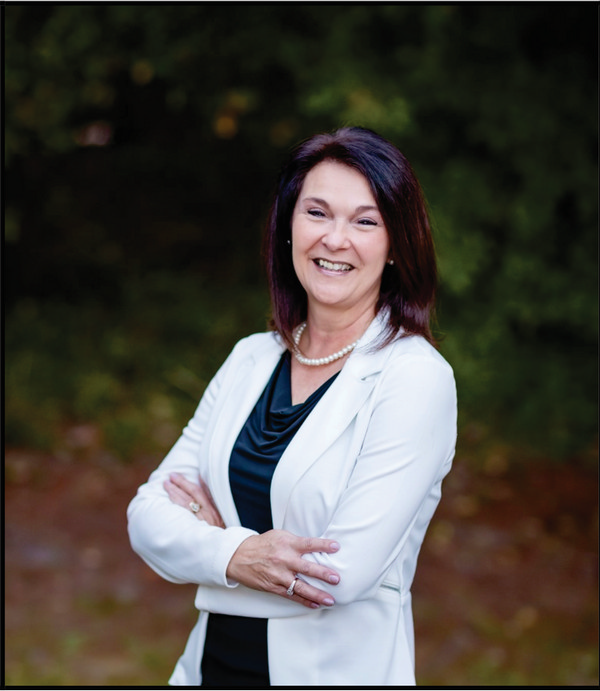 When Sandra began working at the property appraiser's office, she was one of five employees. As the office grew, so did her expertise. She  started out working in customer service, and with persistence and tenacity began working her way up gaining knowledge in deed transactions, exemption approvals, and appraisal techniques and procedures. She advanced through multiple positions, including operating as the Tangible Personal Property Supervisor and Office Manager, until she obtained her current position as Director of Administration, which she has held for the past seven years. Her responsibilities under her current position include payroll management, human resources, annual procedural audits, and property tax roll analysis, preparation, and submission. Her duties also include personnel training and management where she trains the staff in legislative changes, new laws, and exemptions that will affect Florida's property tax structure.
"The property appraiser's office is a major component in our local government," Sandra says, and it's clear that it's an integral part of her life as well. Mrs. Carter offers Walton County her knowledge and experience of thirty-five years, and promises to continue to operate with the same integrity and professionalism Walton County has recognized with her predecessors if she is elected. "I am qualified, certified, and prepared to start on Day 1." She said.
Mrs. Carter has been an extremely dedicated employee to the appraiser's office, and now holds both experience and knowledge in all phases and operations within the office. Over  the years, Sandra has accumulated an in-depth knowledge of all aspects of the property appraiser's office, including an education in appraisal methodologies, sales qualification and verification, budget and finance, property tax exemptions, and records management. In addition, she correlates with constitutional offices, taxing authorities and local county offices for Truth in Millage (TRIM) and the Value Adjustment Board. Sandra currently holds the State of Florida Evaluator designation with over 250 course hours in appraisal and valuation of both real and personal property, along with a myriad of certification hours with the Florida Department of Revenue. Those successes, however, have not put her in a state of passivity. She certainly has a drive to continue to move forward. "I have a passion to continue my service and take my dedication to the next level!" Sandra commented.
Sandra is a lifelong resident of Walton County. She graduated from Walton High School, and later obtained a degree in Business Management through Northwest Florida State College. She currently resides in Defuniak Springs with her husband of forty years, Eddie. The Carters have two children, Blon and Morgan, as well as five grandchildren. Mrs. Carter is very active in her grandchildren's lives, often visiting their school and attending sports activities. Some of her favorite times are spent outdoors with her family, camping and swimming. Sandra is also an active member of Pleasant Ridge Baptist Church where she serves on several committees.
Sandra's zeal and devotion is undeniable as she continues to wholeheartedly commit herself to this county. Mrs. Carter's final words are the perfect summary. "It would be my greatest honor to serve Walton County as your next Property Appraiser."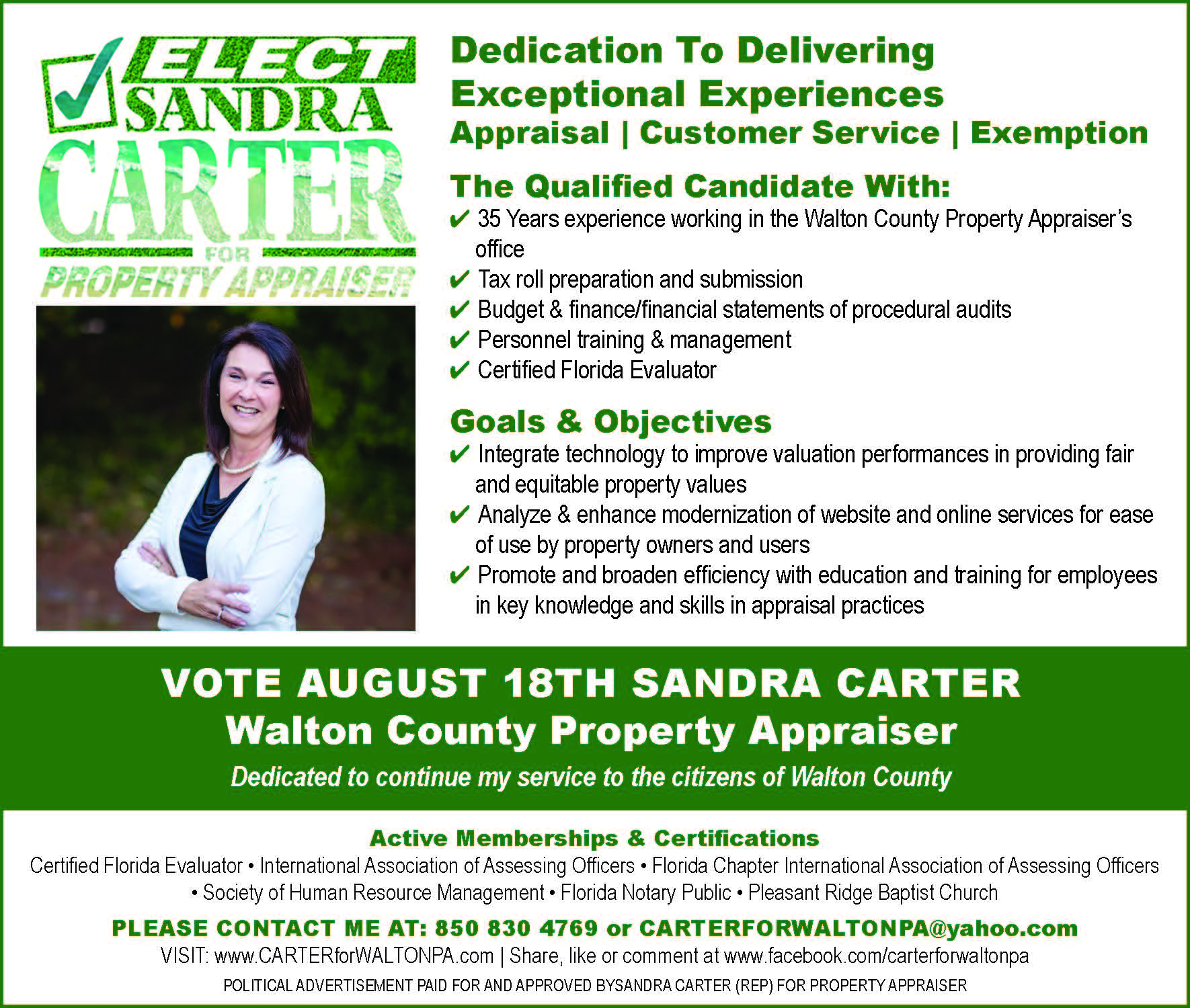 The post Sandra Carter; Walton County's Dedicated Candidate for Property Appraiser appeared first on South Walton Life | 30A News, Events and Community Information.