Baytowne is OPEN and boomin' with events, activities and fun for summer! The Village and all of its merchants welcome you to come shop, dine and play! The Village is taking all necessary precautions and working hard to ensure a safe and clean environment for you including practicing social distancing.
We welcome you to join us to celebrate, escape and embrace the best of summer!
Hydroflight Monday
Mondays through Aug. 3rd
Time: 6:30 p.m. & 8:30 p.m.
Enjoy shows from fly-board extraordinaire Ben Merrell over the lagoon! Watch as he soars to the sky and makes waves at Baytowne Wharf.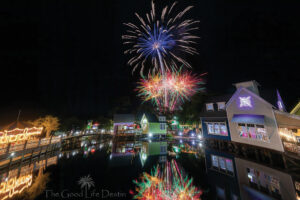 Boomin Tuesday
Tuesdays through Aug. 4th
Time: 7:15-9:15 p.m.
Put on your dancing shoes and join us in The Events Plaza for a dance party with DJ Mike Whitty 7:15-9:15 p.m.
Then, turn your eyes on the sky and watch as we light up the night with a breathtaking fireworks show over the Lagoon at 9:15 p.m.
Wednesday Night Concert Series
Wednesdays through
October 2020
Time: 7-9 p.m.
This summer sit back and relax, as you take in the cool crisp air, and enjoy live entertainment. The concert series will feature both local and regional talent from a variety of genres. Concert begins at 7 p.m. on the Events Plaza Stage.
Live Music Schedule:
July 15: Big AL and the Heavyweights
July 22: Jessie Ritter
July 29: Luke Langford Band
Magical Thursday
Thursdays through Aug. 6th
Time: 7-9 p.m.
Join us for magic, music, and mayhem! Watch as our featured pirate Captain Davy takes you on an adventure with two magic shows on stage! 7 p.m. & 8 p.m. Show Times!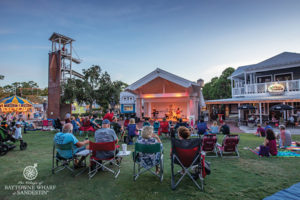 Baytowne LIVE Music
Through Aug. 7th
Time: Every Tuesday, Thursday and Friday
starting at 6:30 p.m.
The Village of Baytowne Wharf presents Baytowne LIVE on Adventure Lane. Located just across from Blast Arcade and Laser Maze.
Baytowne LIVE Schedule:
Music by Steve Hall 6:30 p.m.-10 p.m. July: 14, 16, 21, 28, & 30
Music by Ken & Andi Johnson 6:30-9 p.m. July 17
Music by Jarred McConnell 6:30-9 p.m. July 31
Music by Jessie Ritter 6:30-9 p.m. July 24
Music by Donnie Sundal 6:30-9 p.m. August 7
Sunday Cinema
Sundays through Aug. 2
Time: 8 p.m.
Grab a lawn chair or blanket and cozy up on the Events Plaza Lawn for a featured film on the big screen!
Movie Listings:
July 12: Finding Nemo
July 19: Incredibles 2
July 26: Lion King
The post An Event-Filled Summer for Everyone at Baytowne Wharf! appeared first on South Walton Life | 30A News, Events and Community Information.