Republican Lisa Johnson knows something about hard work.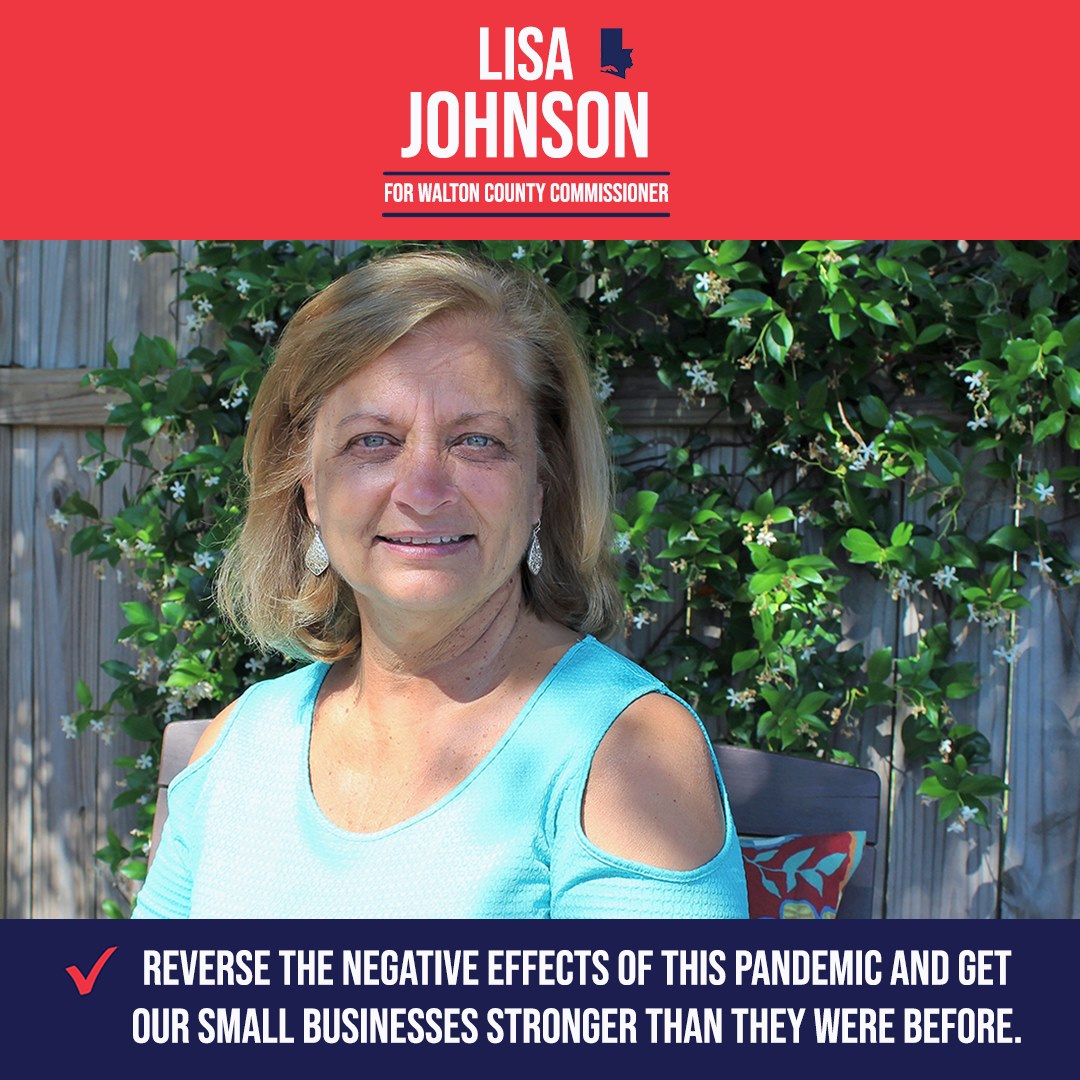 Growing up in a blue collar family, at an early age she began to work and eventually would work her way through college at the University of Memphis, acquiring a degree in Business.
At that jump off point, Lisa would go on to work for such Fortune 500 companies as PepsiCo, Johnson & Johnson, and eventually retiring early from Pfizer.  At each juncture, she would start at the bottom and advance to management and marketing positions.  Lisa acquired her strong work ethic from her father, influencing her in the areas of serving and giving back to the community.
Lisa has been vacationing in Walton County since she was a little girl and carried on that tradition with her son Drew, who is now 26.  It's been almost 7 years since Lisa moved here permanently.  She immediately got involved with the Republican Executive Committee, Walton Republican Women Federated, and is the district rep for the panhandle for Florida Federated Republican Women.
But Lisa's love of service doesn't stop there.  She volunteers for many nonprofits in the area, is on the Kiwanis Club BOD, a board member for Walton Academy, Emerald Coast Seniors BOD, a Beach Ambassador, and substitutes in the Walton County school system.  In her spare time, you can find Lisa traveling to Honduras doing mission work at Clinica Esperanza.
A lifelong conservative and accomplished business woman, Lisa is ready to serve this county as your next County Commissioner.  Working in the corporate sector has given her the problem solving experience to take on our infrastructure problems, beginning with water and sewer along the 331 and highway 90 corridors.  She believes that to sustain our growth, we must improve roads and infrastructure.  This will help to create an atmosphere that attracts new businesses and higher paying jobs so we are not so dependent on tourism.
She will serve the interests of every resident, every day, working to reverse the negative effects of this pandemic and get our small businesses stronger than they were before.
Please vote for Lisa Johnson, County Commissioner District 1, by absentee, early voting August 8-15, or on election day August 18.
The post Candidate for Walton County Commissioner, District 1 appeared first on South Walton Life | 30A News, Events and Community Information.
South Walton Life | 30A News, Events and Community Information South Walton Life | 30A News, Events and Community Information READ MORE