By Kirk McCarley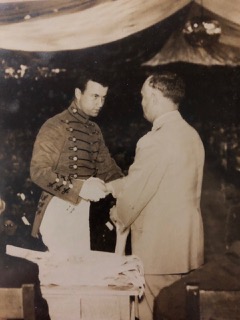 Feebly clutching the fingers of two of his daughters his time to go was imminent.  Breathing his last, after 93 years he passed into eternity.
What is our physical form in heaven?  Do we appear in the image of last remembrance or as a younger man or woman, maybe a child?
Before entering assisted living a year or so ago he occupied the same dwelling for more than 50 years.  There was a garden in the back.  He experimented with varieties of tomato bushes, forever seeking a permanent solution to eradicating pesky nematodes.
Years ago he retired from his professional career, beginning a public service journey as a school bus driver.  His passengers required significant attention:  all compromised either physically, mentally, or both.  He wondered how much of a difference he made for those incapable of comprehension.  Though the kids did not know their parents did.
His church began a prayer initiative whereby at least one parishioner was present in the sanctuary at all times so that there was continuous prayer, 24-7.  Volunteers were asked to participate.  He selected a time disagreeable to most:  2 am on Sunday morning!  For 20 years he arose from deep slumber, drove 15 minutes to the church, knelt and prayed for an hour, came home, and returned to bed.
Might he be observed at heaven's gates in the dental smock he wore for many years as a Children's Dentist?  He was great with kids:  kind, patient, always teasing in a thick Tennessee drawl.  He was a throwback to slower times, less rushed and quick to share a joke or story.  Often the tale began with, "let me tell ya…"
He's prominent in photo albums with his wife and their four kids.  A highlighted remembrance was the picture of a delighted groom on that Christmas Eve in 1953 when he wed his bride.  What a happy memory of that day they shared until her untimely death 47 years later.
His days were chivalrous, with rules better understood, lines more distinctly drawn.  As newlyweds his wife worked while he attended dental school.  A flirtatious supervisor caused her discomfort.  Her husband methodically confronted that by identifying the address of the supervisor, procuring a roll of pennies, knocking on the door, and chasing the alarmed offender down through his neighborhood.  Ten days later his wife remarked, "her supervisor must have taken ill as he hadn't been in the office for some time."
A proud graduate of the Virginia Military Institute he served in the United States Navy.  The day he received his undergraduate degree was a memorable photo imprinted in the minds of those he welcomed to his home.
He was a feisty member of the Lawrenceburg High School football squad, a strapping gridiron warrior clad in leather helmet and high-topped cleats.  His dad ran a grocery store.
As the seventh of 10 children he entered the world in 1927 much the same way he left it:  helpless, dependent, oblivious.  So, when the time comes to be reunited with Charles Held what version will greet us—baby, child, teenager, young adult, husband, dentist, father, school bus driver, senior citizen?
Charlie was my wife's father.  He epitomized the Fruits of the Spirit:  love, joy, peace, long-suffering, kindness, goodness, faithfulness, gentleness, and self-control.  He was one of the best men I have ever known and without question the most moral.  He was relaxed and easy to be around.  His wit was quick; he took it as well as he dished it out.  He was a great father-in-law.
The day will come when I, too, will meet my Maker.  I fully expect that the early entourage of those I see again will be a 50-something looking year old man welcoming me with, "let me tell ya…"
A graduate of the University of North Texas, Kirk McCarley is a Certified Professional Coach as well as a Professional in Human Resources (PHR) and SHRM-CP Certified. He also is a Production Assistant for both college football and basketball for ESPN and leads group cycling classes as a Certified Spinning instructor. Contact kirk@theseedsowercoach.com, theseedsowercoach.com, or call  314-677-8779.
The post Let Me Tell Ya! – Looking Back on a Life Well-Lived appeared first on South Walton Life | 30A News, Events and Community Information.
South Walton Life | 30A News, Events and Community Information South Walton Life | 30A News, Events and Community Information READ MORE