By Mike Barker,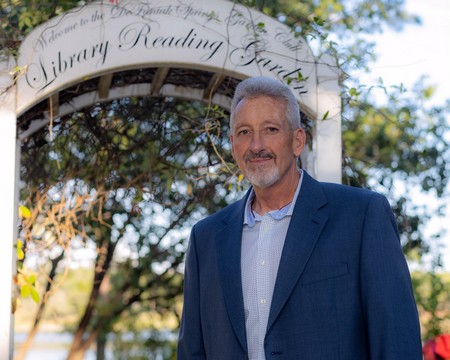 I am Mike Barker and I want to be your District 3 County Commissioner.  Let me tell you a little about myself, and why I want to be your Commissioner.  I am a native and lifelong resident of Walton County.  I have dedicated most of my adult life to serving Walton County in various capacities soon after I graduated from Walton High School in 1979.  At the age of twenty I served as a volunteer Police Officer for the DeFuniak Springs Police while managing our family business. I later served as a Deputy Sheriff for a number of years and was chosen by the Board of County Commissioners as the first full time Emergency Management Director for Walton County.  During that time I installed the first 911 system in Walton County.  I was elected chairman of numerous regional emergency management committees, representing multiple counties to state and federal agencies and guided the county through numerous disasters such as hurricanes, tornados, fires, floods, train derailments and other man-made incidents.  I also wrote and managed numerous grants for the county including historical preservation, parks and recreation, boat ramps and improvements, 911 communications, emergency medical and fire department equipment, road, bridge and beach renourishment. I was in charge of code and environmental enforcement, writing and managing multiple county, state and federal budgets, fire coordination, writing policies and procedures, and ordinances with the assistance of the county attorney.  After leaving employment with the county,  I owned and operated a business in South Walton County for a number of years in Blue Mountain Beach and was an active Realtor and property manager in South Walton.  I sold the business in 2003 but continued in real estate. During that time I worked part time with the DeFuniak Springs Police serving as a Lieutenant until I was asked in 2009 to once again to be the Emergency Management and 911 Director for Walton County working for the Walton County Sheriff's Office. I have been a city Police Lieutenant, County Public Safety Director, Deputy Sheriff, Deputy Sheriff Lieutenant and Deputy Sheriff Captain and retired with the rank of Major.  I currently serve on Walton County Planning Commission, and reside in District 3 with my Wife of almost ten years.
Why do I want to be your County Commissioner? I have never sat on the sidelines. I have numerous leadership roles and accomplishments in Walton County. Just because something could not be accomplished in the past, should not be an impediment to a fresh start with new ideas and or research.  The phrase, "it can't be done" does not stop me from trying. I believe citizens should be heard, and disrespect in public or private should never happen. The old saying, "if you can't handle the heat, stay out of the kitchen" applies to being a public official. I will not be bullied with political antics, and I don't think citizens should be either. I have worked under pressure and under fire and I am still here and Walton County is still my home. I believe county employees should be treated fair and equal. I will work alongside county public works and the planning department to ensure that county procedures can be understood by county staff and the public. I will work to ensure a good work environment and work ethic. I believe county codes should be followed and enforced.  I will stand up for what is right, work with and for you, and apply common sense when making decisions. I have been tested under fire and under  pressure. I want to help guide Walton County into our future, in a way that makes sense for all of us.  Vote for Mike Barker County Commissioner District 3 on August 18th.  You have a choice.
The Author is a republican candidate for the Walton County Board of County Commissioners.
The post Mike Barker for Board of County Commissioner appeared first on South Walton Life | 30A News, Events and Community Information.
South Walton Life | 30A News, Events and Community Information South Walton Life | 30A News, Events and Community Information READ MORE