By Josette Rhodes
"Sticky Too," an Emerald Coast duo, brings together decades of experience from top musicians Jay Gurly and Tim Smith. Sticky Too has created an unrivaled sound within the music scene. Tim Smith began his life in north Alabama and Jay Gurly hails from the foothills of South Carolina. When asked about their musical past  they summed it up as individually spending the 80's, 90's, and early 2000's playing every beer joint and nightclub on the East Coast. In 2015 they got together to play in the band "Sticky Tea." It was shortly after that they formed the duo Sticky Too and they have been playing coastal locations and lakefront venues from Alabama to Myrtle Beach ever since.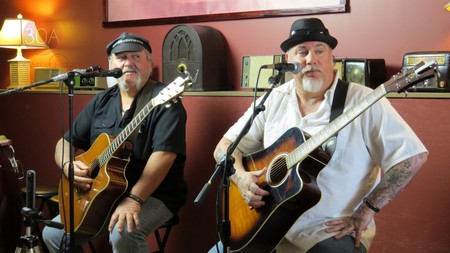 30A Songwriter Radio is a huge fan of Jay and Tim. We first had them on air way back when we still operated out of our living room. We knew then that these guys had something special. I remember the next day we covered them playing at The Out Post in Freeport Florida, a well known biker bar and music venue. What an experience! While they played acoustic on the radio show they shredded their electric guitars on stage. It was awesome watching a few hundred leather clad bikers gather in front of the stage and thoroughly enjoy the show. Their immense talent and versatility are some of the things that make Sticky Too an excellent choice for any type of venue. Most recently we saw Sticky Too at the new Restaurant / Venue in Miramar beach, Auston's on 98. You can often find Jay and Tim playing Auston's on Wednesday night. For booking information call Tim Smith @  850-596-5544
The post 30A Songwriter Radio's Artist Spotlight: Sticky Too appeared first on South Walton Life | 30A News, Events and Community Information.