By John Magee,
I am asking for your vote for Re-election on November 3, 2020, for the position of Commissioner Seat One, South Walton County Mosquito Control District.
I have been a resident of Miramar Beach for 38 years and consider Walton County my home. Prior to that time, I lived all over the United States to include serving in the Army. Watching Walton County growth has been exciting knowing that I have been part of the foundation. Can you imagine how it would be if we did not have mosquito control?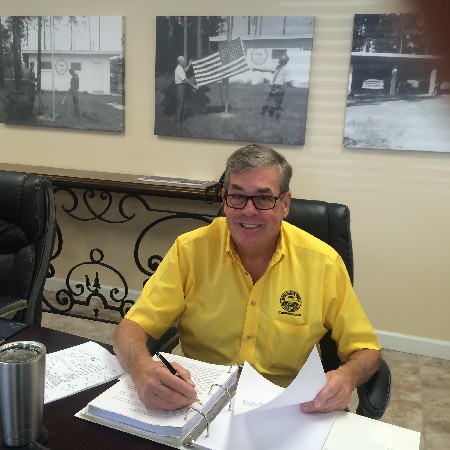 I have been married to Patricia for 47 years and we have two wonderful sons and four fantastic grandchildren. One of the satisfactions I get is knowing that the SWMC goes that extra step to manage the mosquito population around our ballparks protecting our kids while they learn leadership skills in sports.
In 1993 Pat and I founded Hi-Tec Laboratories Inc. this company's primary function was the manufacturer and development of specialty chemicals. From this company we had a spinoff company called Gulf Stream Plastics, which was a blow molding bottle manufacturer. Both these companies were housed in Walton County, Florida. It was a twenty-four-hour operation and 95% of our employees were residents of Walton County. It was my objective to create as many full-time non-tourist related jobs as possible. We sold these companies in 2015 and they are still in operation in Walton County under the new ownership.
I started to attend monthly commission meetings and realized that this was an area of expertise and leadership I could bring to the organization as a commissioner and after two years of attending meetings I was elected as Commissioner for Seat One.
The accomplishments that the district has achieved over the last sixteen years was for a better South Walton County. We have an outreach program that took years of dedicated work teaching in the schools which is now a success story. We developed an on-line notification spraying notification for individual areas all you have to do is register on our webpage. Building a strong district requires the assurance that our technicians are fully trained and up-to-date on all procedures. Education has always been one of my first objectives. The list goes on but the fact the matter is the quality of life presently is much better than it was when I moved here in 1982. I used to joke around back then and say the mosquito was the state bird. Now I'm often stopped by constituents praising the district on how well we manage the mosquito population, thank you for your support.
There are other objectives that had to be turned around. When I first went on the board there was not a good strong working relationship with the county. Reaching out and meeting with the administrator and commissioners to include department heads we have bridged a strong relationship of working together. Sure, there's times we disagree but at the end of the day we try to make everything work out legally and to the best for the constituents.
Over the last sixteen years I have served twice on the Board of Directors of the Florida Mosquito Control Association. I am currently serving now. I was elected to this position by the other commissioners throughout the State of Florida. I appreciate their confidence in me to perform the duties representing them. It is a very challenging position but rewarding for accomplishments gained. One thing I do like about it is that we work very close with the Department of Agriculture who governs the use of pesticides in the State of Florida. This gives me a heads up of changes that will be coming so that we are better informed as our district level prepares for those changes.
Other Affiliations:
Florida Mosquito Control Association, I am currently serving on the Board of Directors
Active Member, American Mosquito Control Association
Member American Chemical Society
Insurco Reassurance Corporation past Board of Directors (insurance company)
Walton County Economic Development Alliance, past founding member
Past Chairman Walton County Republican Party
Past President South Walton Republican Club
South Walton Kiwanis Club (Past Charter Member)
On November 3rd I am asking for your vote to Re-elect John Magee Seat One SWMC. This is a nonpartisan position and we are in the lower right-hand corner of the ballot please do not overlook me; we are after the amendments.
I have proven leadership and experience.
"M" is for Mosquito – " M" is for Magee
Thank you for your consideration and I look forward to serving you for another four years. 850 217 1135
The post John (M and M) Magee Announces Bid for Re-Election to South Walton Mosquito Control Board appeared first on South Walton Life | 30A News, Events and Community Information.
South Walton Life | 30A News, Events and Community Information South Walton Life | 30A News, Events and Community Information READ MORE