By Scott Gilmore,
Have you ever asked someone the question, "Do You Play the Guitar?"  If they answered "yes" then there are always the inevitable follow up questions of: "What style do you play?, What kind of guitar do you have?, and How long have you been playing?"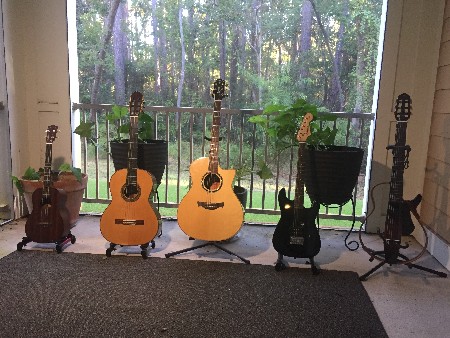 The Guitar is a plucked string instrument that probably originated in Spain or Portugal early in the 16th century. It is derived from late-medieval and renaissance instruments such as the vihuela and the lute. During the 20th century Andres Segovia popularized the guitar by inviting some of the greatest composers of his era to develop compositions specifically for guitar. These compositions
combined with Renaissance, Baroque and Classical pieces transcribed from other instruments such as the lute, cello, and harpsichord create much of the modern music performed today.
Classical guitar keeps evolving to this day through it's modern composers like Roland Dyens, Andrew York, Sergio Assad, Johannes Moller, and many others. The classical guitar roots are
the foundation for the Guitar "Family Tree". Pioneers like Maybell Carter and Chet Atkins developed a style whose echo can still be heard in Country Music today. In Jazz, Charlie Christian, Wes Montgomery, and Joe Pass laid the foundation which others built upon like Pat Metheny and Stanley Jordon.
The early blues players like Robert Johnson, Muddy Waters, and later B.B. King set a high bar for future lugubrious pickers. Stevie Ray Vaughn, John Mayer, and Joe Bonamassa stepped up to the challenge. Chuck Berry broke off from the blues to cultivate his own style when Rock and Roll was just a baby crying in the crib but would later be destined to change a generation. Jimmy Hendrix, Jimmy Page, Eddie Van Halen, Steve Vai, and a legion of other virtuosos pushed the limits of what we thought the guitar could be. Of course, the Beatles' guitarist inspired a legion of guitar wielding singer-songwriters like James Taylor, Joni Mitchell, Tom Petty, and countless others.
Why has the Guitar become the World's Most Popular Instrument?  That question has a few answers. Firstly, although the standard guitar has only half the notes of a piano, it still contains a mini orchestra. Bass, mid-range, and high-end notes are all represented. Secondly, the guitar is portable. Its' go anywhere aspect makes the guitar the perfect tag along friend! Thirdly, in this modern world
People really like the fact the acoustic guitar is made of wood, keeps sounding better with age and does not require gas or electricity. When we want to unwind at the end of the day, gently strumming, picking, or even thrashing on a guitar can be very cathartic and healthy. During this virus season when we find ourselves inside with more free time than some of us ever imagined, it is a good reason to get our guitar out of the closet and set out on another incredible journey of playing.
Music grows from its roots. Have a plan and a teacher. Choose a quality instrument that you will be able to grow into. Step up and pay more for a quality instrument since when you dollar cost the average amount, it will come down to pennies redeemed for every time it's picked up and played.
My final advice is to get a guide or quality teacher. I have studied with the same teacher for 25 years.
Most of my guitar knowledge has come through him.
The New York Times recently published an article entitled, "The Guitar Boom of 2020". Perhaps we have the time that we didn't have a year ago to pursue our musical dream. No matter who you are, I believe your life will be better with a guitar in it.  Strum-day could be NOW!
Scott Gilmore is lead Guitar Instructor with Studio 237 Music. For lessons, please call 850.231.3199 Visit our website www.Studio237Music.com and register online to improve your skills on guitar.
The post Studio 237 Music School: Do You Want to Play Guitar? appeared first on South Walton Life | 30A News, Events and Community Information.